Simon Coveney says calls for border polls 'unhelpful'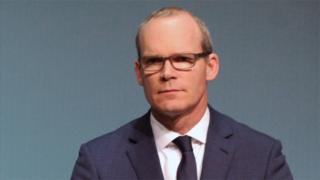 Calls for border polls during ongoing Brexit negotiations are "unhelpful", according to Simon Coveney.
The Irish foreign minister said they were "an unnecessary distraction" at a seminar on Brexit organised by Irish senior civil servants.
He also said they risked fuelling polarisation in Northern Ireland.
While Mr Coveney acknowledged people had the right to nationalist or unionist aspirations, he urged all sides to "focus on the task at hand".
He said all focus should be on overcoming the challenge posed by Brexit, and not seeing it as an opportunity to promote other aspirations, or to fuel fears.
Mr Coveney stressed the importance of the political system and civil service in Ireland working together and he also praised the work of the UK's civil service in the ongoing negotiations.
He said while the British civil service was arguably the best in the world, it needed political direction to make more progress on the complex issues linked to Brexit.