Amnesty for Troubles killings 'an insult to police'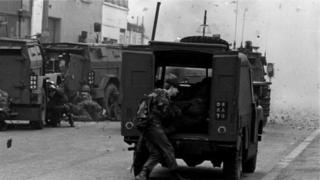 An amnesty for killings during the Troubles would be an insult to police officers who were killed and injured, the association representing them said.
More than 300 RUC officers were killed and thousands injured.
The Police Federation said it opposes any legislation which proposes an amnesty for any crime, no matter who was responsible.
They said it would be a "shameful act of betrayal" to link former officers with terrorists in legacy debates.
The Police Federation made the comments to delegates at the association's annual conference on Thursday.
Earlier this month, Northern Ireland's former director of public prosecutions, Barra McGrory QC, told the BBC he believed it was time to halt prosecutions for Troubles killings because of the difficulty obtaining convictions.
'Monstrous injustice'
Mark Lindsay, the federation chairman, said such an approach would be unacceptable.
"This organisation is totally opposed to any legislation which proposes an amnesty for any crime," he said.
"Any crimes, whether committed by police officer or terrorist from any side of the divide."
He said society must now decide whether the solution is "a political solution or a criminal justice solution".
"If justice is to be done fairly, then society must move away from rumour, story-telling and political agenda and deal only with facts in law," he added.
"It would be the most monstrous injustice to our murdered men and women if we were to accept some half-baked idea that resulted in the names of our colleagues being sacrificed for the sake of political expediency. That would be the ultimate insult."
Mr Lindsay also criticised the use of the word collusion "without either legal definition or proof".
He described the use of the definition as an attempt "to retrospectively criminalise policing and officers, both serving and retired."
'Havoc and misery'
The federation chairman told delegates the actions of police officers had prevented Northern Ireland descending into anarchy.
"Our colleagues did what was right," he added.
"They must not be treated the same as the people who pulled the trigger or planted the bomb."
Mr Lindsay said they had saved tens of thousands of lives, unlike those who had "wrought havoc and misery".
"So, it would be intolerable and massively offensive if their good names were to be used in the same breath as the killers who sought 'parity of esteem' by using a warped parity of misery and pain," he said.
"A disrespectful and shameful act of betrayal."
The Federation has also called on the government to provide funding to recruit hundreds of additional police officers and vehicles to cope with new border security arrangements as a result of Brexit.
Mr Lindsay said the PSNI will have to provide protection for customs officers and other agencies working in the border area because they would be a target for dissident republicans.