NI newspaper review: PSNI man eyes top job and injured Liverpool fan's return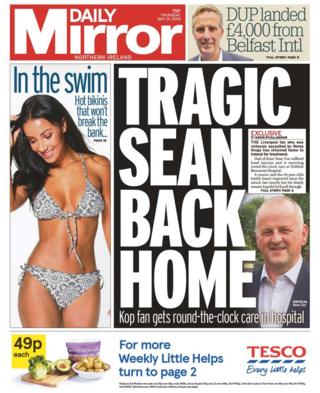 The PSNI's deputy chief constable, Drew Harris, is in the spotlight on Thursday morning as the Irish News reports he has been shortlisted for the position of Garda commissioner.
Mr Harris was formally in charge of the Northern Ireland police force's intelligence branch, and the newspaper reports that he is now thought to be favourite to secure the job.
It says the salary for the role of commissioner was recently increased to €250,000 (£219,000) from €180,000 (£158,000) in a bid to attract wider interest in the position.
The position became available after Nóirín O'Sullivan announced she was retiring in September of last year.
Ms O'Sullivan had faced several opposition calls to stand down over a number of issues, including her handling of police whistle-blowers and the disclosure that police officers had significantly exaggerated the number of breathalyser tests carried out.
The newspaper also reports that a former head of maths at St Colman's College in Newry has been sentenced to 13 years in prison for 29 counts of indecent assault.
Patrick James Carton, of Marguerite Close in Newcastle, County Down, also taught at De La Salle in Downpatrick.
The accusations covered a time period from 1983 to 2007.
The case also features on the front page of the News Letter which notes that the trial heard how Carton had given private maths lessons to his victims, abusing them in their own bedrooms.
Another story on its front page indicates that an elderly woman has died following a fire at a house on Donegall Avenue in south Belfast.
The woman, who was in her 80s, was taken to hospital for treatment following the fire on Wednesday evening, but died a short time later.
The News Letter also reports that a DUP councillor has accused Sinn Féin of "politicising children and their safety" after road safety signs written in English and Irish, and sporting the party's logo were erected in County Antrim.
It says the signs have appeared on lampposts and telegraph poles in Glenavy.
DUP councillor James Tinsley said he had reported the matter to Roads Service and asked them to "take immediate action".
A Department for Infrastructure spokesperson said the signs are illegal and that Sinn Féin had agreed to have them removed. The News Letter says the Ulster Star newspaper had contacted Sinn Féin, but there had been no response at the time of publication.
'Face charges'
The Belfast Telegraph reports on its front page that the PSNI has warned that any pregnant women who take abortion pills to be delivered at a pro-choice protest outside a Belfast courthouse today, could face charges.
Police said taking the abortion tablets, which are to be delivered by a robot, "may constitute a criminal offence" and it would "take measures to bring the offender to justice".
The newspaper says a doctor is expected to counsel the women remotely, as the robots are operated from the Netherlands, in a bid to avoid breaking the law.
It also reports that the Electoral Commission is investigating money paid by Mid and East Antrim Council to sponsor a table at a DUP MP's constituency dinner.
Ian Paisley hosted the event at Tullyglass Hotel, Ballymena, last year.
The commission is focusing on £1,500, which it described as a "donation" to Mr Paisley. He insists the money was paid directly to the hotel.
The Daily Mirror's front page reports that Liverpool FC fan, Sean Cox, from County Meath, who was injured in an attack before the Champions League semi-final, has returned home to Ireland for treatment.
Mr Cox, 53, sustained head injuries before Liverpool's game at Anfield against AS Roma last month.
The newspaper reports he is receiving "round-the clock care" at Dublin's Beaumont hospital.
A source told the newspaper that despite a lack of progress in Mr Cox's condition, his "family remain hopeful that he will pull through".
Meanwhile, anyone with something precious to protect may want to take a note of the Daily Mirror story that building work is under way at a secret location in Northern Ireland for an impenetrable vault which will house thousands of safe deposit boxes.
Belfast Vaults have said the multi-million pound bunker will be the "first independent safe deposit box vault in Northern Ireland".
Among the items that can be stored include, cash, jewellery, gold bullion, photographs, and computer hard drives.
"In our Dublin vault we have clients who are in up to five time a day," Nigel Doolin of Belfast Vaults said.
"We have a gentleman who stores his father's ashes and we have a radio presenter who stores her unedited interviews in her safe deposit box."