Ex-teacher Patrick Carton jailed for indecent assaults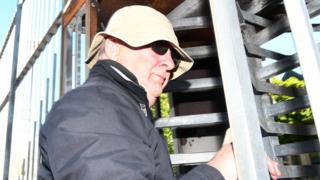 A former Maths teacher from County Down has been sentenced to 13 years in prison for 29 indecent assault charges.
Patrick James Carton, of Marguerite Close in Newcastle, taught at St Colman's College in Newry and De La Salle in Downpatrick.
He retired as a teacher in 2002 but continued to tutor. It was from these tutoring sessions that the accusations were made by five females and one male.
The accusations covered a time period from 1983 to 2007.
The trial, which took place in Downpatrick Crown Court over seven weeks, centred on what Carton called the star system.
This saw tutorial students smacked on the bottom if they got questions wrong.
This began with smacking over clothing but with more incorrect answers progressed to smacking over underwear and then smacking on bare bottoms.
Carton, 75, was also found guilty of touching some of the former students in private areas, trying to make some victims kiss him and touch his crotch area.
Delivering his sentence, the judge said that Carton had been seen as: "A beacon of respectability who had dedicated his career to teaching children with considerable success.
"All of this makes your fall from grace even greater. It is clear that you have been offending since you were middle aged.
"You continue to represent a serious risk to the public - especially children and teenagers."
Speaking after the sentencing, PSNI Inspector Michelle Shaw said Carton's six victims had shown "great strength".
"I hope today's result has lifted a huge weight from their shoulders," she said.
Insp Shaw said there were officers in the police service, specially trained to investigate sexual abuse allegations and she urged anyone who had suffered abuse to come forward.
Carton is also subject to a court ordered Sexual Offences Prevention Order (SOPO) for the duration of the sentence.