Hillsborough Castle aims for tourists with £20m makeover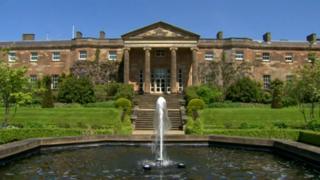 Northern Ireland's 'newest' tourist attraction just happens to be 250-years-old.
But life will begin afresh for Hillsborough Castle on July 1, when the Queen's official residence opens as a year-round visitor destination.
To prepare for a targeted 200,000 paying customers a year, it is getting a £20m makeover.
Tourists from China and the United States are among those already booked on tours.
Patricia Corbett, head of Hillsborough Castle, said: "This is a huge opportunity to open this asset to the people of Northern Ireland - to give it back if you like."
Presidential guests
Previously it had limited public openings, including royal garden parties, before being taken over in 2014 by Historic Royal Palaces.
The charity is behind the refurbishment, with part of the money coming from lottery funds.
Renovation effort is currently focused on the castle, a Georgian mansion dating to the 1770s, which hosted President George W. Bush on a trip to Northern Ireland in 2003.
Another part of the project involves restoring a four-acre walled garden.
However, along with a visitor centre, it will not be ready for tourists until April 2019, when the project will be complete in its entirety.
A car park to serve the attraction is also being built off the A1.
Lisburn and Castlereagh Council hopes Hillsborough Castle will become "a jewel in the crown" for the borough and it proposes spending £5m on improvements to the village and its forest park.
Councillor Allan Ewart said the aim is to get at least 10% of castle visitors to explore the village.
"We are delighted with what is happening. This can be a real boost to the area's economy."
Andrew Graham, who manages the Hillside pub in Hillsborough, agreed.
"With numbers being up at 200,000 people, as a business you hope to get a portion of that.
"Even if it is 10% it will be very fruitful."
Northern Ireland's most popular attraction, the Giant's Causeway, attracts a million visitors a year.
If Hillsborough hits its target, it will sit just outside Northern Ireland's top 10 attractions and Patricia Corbett is confident it will prove popular.
"This will be the most significant addition to tourism in Northern Ireland in recent years.
"What we have is unique in terms of significant royal pedigree," she added.