RHI: Adviser denies giving 'insider info' to Moy Park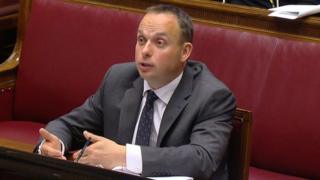 Arlene Foster's former special adviser has denied providing "insider information" to poultry giant Moy Park over RHI.
Andrew Crawford was giving evidence to the public inquiry into the flawed green energy scheme.
He did send departmental information to a senior company executive at Moy Park who was a neighbour and friend.
Members of the RHI inquiry panel expressed concern that it looked like "insider information".
They thought it might afford the company a commercial advantage.
However, Dr Crawford told the RHI inquiry on Wednesday that, while the poultry processor was a big employer which had lots of contact with government, it did not get preferential treatment.
'Sent to neighbour'
Mr Crawford sent the information to Brian Gibson in November 2014 after an inquiry from his neighbour.
Mr Gibson was a senior member of staff in the company who helped decide which farmers were accepted as suppliers.
Dr Crawford said he did not remember the nature of the inquiry.
But he sourced and sent on a departmental briefing document in an email which suggested that proposed changes to the structure of the scheme were "not likely to have an impact" on Moy Park suppliers.
Many of them were using biomass boilers, which were eligible for RHI subsidy, to heat poultry houses.
'Standard document'
Dr Crawford said the briefing document was a standard one meant for distribution beyond the department.
But panel member Keith MacLean said there was no evidence that the information contained in it was already in the public domain.
He said that, by providing Moy Park with the information, Dr Crawford was giving a potential commercial advantage to one company in the poultry sector and it was being done without clearance.
Dr Crawford said Moy Park was an important company and a big employer which the executive wanted to help expand.
He said that, as an international venture, if it did not grow in Northern Ireland, "it would grow elsewhere".
But he said that did not mean that "we set up schemes to benefit them".
He said he saw no reason why he should not assist the company with information which was available in the public domain.
Sir Patrick Coghlin said that despite its size and importance, this did not entitle Moy Park to "insider information" or "a view from you as an insider that changes are not likely to have a negative impact".
Earlier on Wednesday, Dr Crawford said the former enterprise minister, Arlene Foster, did not "jettison" plans for cost controls in the RHI scheme.
He said officials decided to park proposed cost controls and move ahead with the domestic scheme in late 2013.
Mrs Foster and Dr Crawford were not told that a 10% target of renewable heat by 2020 was not achievable, the inquiry heard.
It was a Programme for Government target.