Fermanagh lakelands: £2.6m to preserve Lough Erne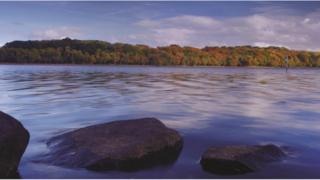 One of Northern Ireland's most popular beauty spots, Lough Erne, has been awarded £2.6m in funding.
The Heritage Lottery Fund money is aimed at luring the curlew, the snipe and the lapwing back to the lakes.
It will also be used to make the natural beauty and wildlife more accessible to visitors.
The money has been awarded to the Lough Erne Landscape Partnership (LELP) led by the Royal Society for the Protection of Birds.
Plans for the County Fermanagh lakes include building fresh trails and walkways.
Breeding populations of waders such as curlew, snipe, and lapwing have dropped by more than 80% over the past 30 years. Conservation work will support their return.
The Fermanagh Lakeland landscape consists of many islands, long shorelines, rivers, wet meadows, blanket bog, grasslands and woodlands.
It is home to an array of internationally important species and habitats with a wealth of natural, built, archaeological, cultural and industrial heritage spanning 9,000 years.
The LELP plans to deliver 23 individual projects.
Paul Mullan, head of HLF, said: "The Fermanagh Lakelands are an area of breathtaking beauty, rich in history and culture and treasured as a space for relaxation and enjoyment.
"However, the area has suffered from habitat loss and species decline, largely due to the lack of a co-ordinated management strategy.
"So we are delighted that, thanks to National Lottery players, RSPB NI and partners can progress their vision for the area, safeguarding the landscape and reconnecting people to the heritage of this amazing landscape."
Joanne Sherwood, director RSPB NI, said: "Fermanagh is a wonderful place rich in natural, built and cultural heritage. RSPB NI is thankful for HLF support and delighted to take a leading role working closely with partners and the community to make a lasting difference for heritage and people."
Local people will be encouraged to get involved in the project.
There will be a dedicated training and volunteering programme providing opportunities to become a heritage champion for the landscape, lead guided tours or develop traditional skills such as stone carving, thatching, and heritage crafts.
Engaging with people and communities is at the core of the Partnership Scheme.