Armagh road bowling: The art of throwing 'bullets'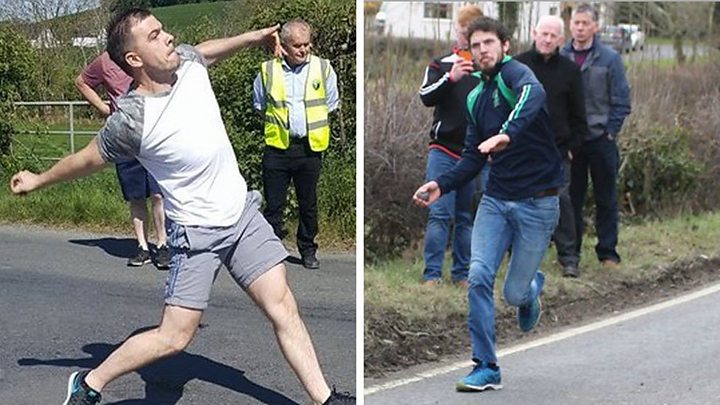 The ancient sport of road bowling is fiercely contested and thousands of euro regularly rest on the outcome of competitions played on the country roads of rural County Armagh.
Arch rivals Thomas Mackle and Cathal Toal are two of the game's top competitors and have their own paths to glory - from working out in the gym to chasing sheep and lifting calves.
Road bowling is a sport steeped in tradition - as rich in history and lore as it is in the amount of cash wagered when it is played.
The competitions - known as scores - are held during the summer on country roads along County Armagh.
Two competitors each throw a steel ball - the bullet - down a lane packed with rowdy spectators.
The person who takes least number of shots from one end to the other wins.
The sport is confined to a 20-mile radius, from the townland of Blackwatertown, through the Tassagh viaduct and into Newtownhamilton.
Outside that, the only other place it is played is in Cork.
'A bullet in my hand to throw'
Throwing is built on deep rivalries, rooted in family dynasties.
Thomas Mackle, 26, is one of the stars of the game.
"Bullets is a big thing, it goes down through generations," he told the BBC's True North programme.
"Since I was fit to walk really, there was a bullet put in my hand to throw.
"My grandfather threw, my aunts and uncles, they all threw, my mother threw, daddy threw. It's all just passed down and someday hopefully my children will throw as well."
Thomas is also on top of his game.
"Been hard to beat," he said. "I've won the last two Ulsters, the last All-Ireland, I've won the last two King of the Roads, Ból Fadas.
"At the moment, I have won everything, so hopefully try and keep it going and keep the momentum up."
"Everyone's target is to beat me and mine is to stay at the top. There is nobody going to land out on a bad day and beat me anyhow, that's for sure."
His main rival is 30-year-old Cathal Toal.
"There is only one ambition with me, winning everything going, everything I throw. In my eyes, if you don't win you're last."
Both men have very different approaches to preparing for a score.
Cathal has embraced the gym.
"The more stretching, the better to prevent injury. There's nothing as bad as throwing a score and waking up the next day not fit to walk.
"It's very physical, the Armagh style of throwing is a lot more vigorous. They're jumping on the hard ground and just shaking their whole skeletal system and down through time it's like everything else, the nuts are going to come loose.
"The top throwers in Ireland are now all athletes."
Thomas, meanwhile, is a farmer who "never was in through the doors of a gym in my life".
"I don't intend going either," he added.
"I feel they're nearly a waste of money anyway. If you want to run or lift weights you can do it at home.
"I'd be running after sheep, I'd be lifting calves and pulling sheep and moving lambs, so I get a bit of everything all the time."
The other key component of bullets is the betting.
If Thomas is on the road competing, his father Paul Mackle will not be far away laying odds and taking bets.
It is all in cash and communicated only by word of mouth. Thousands of euro routinely ride on the outcome.
"You always get paid," said Paul.
"There's never any bother with people paying you. It is all man-to-man bets."
And as one seasoned observer remarked in the pub after a score, the margins between winning and losing are slim.
"It's a very fine line - you're only six inches away from being the best thrower or being the worst."
'True North: Bullet Men' airs on BBC One NI on Monday, June 4, at 22:40 BST.