NI newspaper review: Spad's 'golden handshake' and priest's warning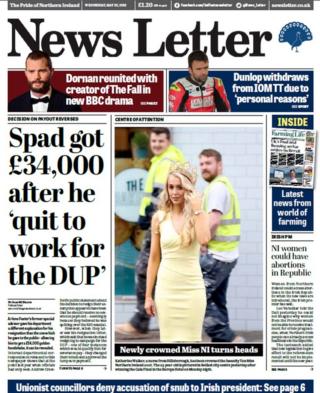 A former special adviser to DUP leader Arlene Foster, who resigned over claims he exerted influence on the Renewable Heat Incentive (RHI) scheme, makes the front page of the News Letter on Wednesday morning.
The newspaper claims Dr Andrew Crawford gave his department a different explanation for his resignation than the one he gave to the public - allowing him to receive a £34,000 "golden handshake".
When Mrs Foster became NI First Minister in January 2016, Dr Crawford had not remained as her special adviser and, at the time of his resignation, was working as Spad to DUP agriculture minister Michelle McIlveen.
The News Letter says internal departmental correspondence indicates that at the point last year when officials had only seen Dr Crawford's public statement about his decision to resign "their assumption appears to have been that he should receive no severance payment - seemingly because they believed he was quitting over the RHI scandal".
However, when they later saw his resignation letter, which said that he was instead resigning to campaign for the DUP - one of four instances which would qualify him for severance pay - they approved the payment.
A DUP spokesman has said Dr Crawford's statement on 19 January 2017 and resignation letter are "completely consistent".
The Belfast Telegraph leads with a Belfast priest's message to pro-choice Catholic couples that those who "do not wish" to abide by the church's teaching on abortion "can get married in City Hall" rather than being "hypocritical and dishonest by using the church for a day".
Fr Patrick McCafferty of Corpus Christi Parish, said it was "dishonest to have a wedding in a church if you don't respect or regard what the faith is about".
His comments follow those of Newry priest Fr Damien Quigley who warned a couple that advocating abortion could mean their wedding not taking place in a Catholic Church.
Elsewhere, the Irish News reports that Fr McCafferty says he will protest along with other anti-abortion activists outside clinics carrying out abortions when legislation is introduced in the Republic of Ireland.
The Telegraph, along with a number of the other newspapers, reports that the Irish government will look at whether women from Northern Ireland can avail of abortion services in the Republic.
It follows comments from the Irish prime minister, Leo Varadkar in the Irish parliament.
Mr Varadkar said people already go to the Republic's hospitals for healthcare and he "imagined" abortion services would be "treated as a normal part of our health service".
However, he added it would have to be examined as legislators draft a bill in the coming months.
The front page of the Irish News reports on the trial of a chef accused of unlawfully killing a 22-year-old man in Belfast.
Conan Anderson, from Belfast's Short Strand area, suffered head injuries at Arthur Lane in the early hours of Monday 6 February, last year. He was admitted to hospital later that day, but died nearly two weeks later.
Lawrence Dowie, 28, whose Belfast address cannot be disclosed due to reporting restrictions, told police the fatal incident happened in a single punch.
He said he was acting in self defence. The prosecution has rejected his claims.
The Daily Mirror reports on a new flags agreement in the Ballynafeigh area of Belfast which will bar flags with links to paramilitary groups being flown.
Only the union flag and Ulster banner will be flown under the agreement.
It also states that flags will be displayed from the middle of June until early September, and that only one flag will be flown on each lamppost.
Elsewhere, the newspaper says the DUP chair of Mid Ulster District Council and her Ulster Unionist deputy have been accused of snubbing the Irish president, Michael D Higgins, during an official visit to the Seamus Heaney Homeplace in Bellaghy.
The council's chair Kim Ashton and her deputy Mark Glasgow did not attend Sunday's event.
SDLP councillor Malachy Quinn said it was a "complete disgrace" no unionist councillor turned up.
Ms Ashton said she was not able to attend as she was "already attending a festival of praise in Dungannon on the same day". Mr Glasgow said work commitments were responsible for his absence.
Finally, if you are wanting to enjoy the good weather, get out there and savour it today, as the News Letter warns it is set to "take a turn" going into the weekend, with a threat of some showers on Thursday.