Man charged over car and roof damage in Belfast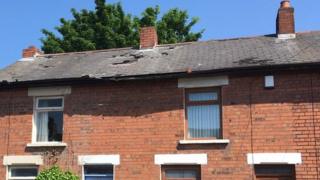 A 26-year-old man has been charged in connection to damage caused to a number of cars and roofs of houses in south Belfast.
The incident happened on Sunday evening in Ashley Drive.
Stephen McAuley, from Kilburn Street in Belfast, is accused of assaulting a police officer and disorderly behaviour.
He has been released on bail to an address in Bangor on condition he abides by a 21:00 BST curfew.
Another condition of his bail is that he does not go to Ashley Drive.