Judge concerned over cross-border convictions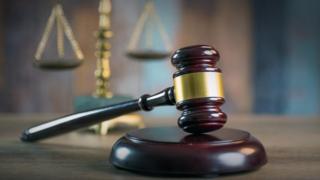 Convictions from summonses posted to people in the Republic of Ireland could be unlawful, a district judge has said.
Mr Justice John Meehan made his remarks following two recent cases where residents of the Republic attended his court.
He said their summonses were not legal as they did not have a "proof of service" certificate from, or on behalf of, the relevant Secretary of State.
The Public Prosecution Service (PPS) said it is "a complex matter".
District Judge Meehan criticised the PPS for ignoring a ruling from 2012 known as the Gallagher judgement.
A PPS spokesperson said: "We agree it is important that there is consistency in the disposal of these cases at court and are currently considering all avenues open to us to ensure this."
'Exercised his right to leave the court'
District Judge Meehan added: "It is my duty to ensure the law is applied.
"Both PSNI and PPS have been repeatedly told the posting of summonses in these circumstances does not comply with the agreed treaty."
The 2012 Gallagher judgement draws attention to Article 157 of the Magistrates Courts (NI) Order.
It states that "any summons, notice or other process lawfully issued in connection with any proceedings before a magistrates court, may be served in any part of Northern Ireland, upon the person to whom it is addressed".
In the Gallagher case, Judge Meehan ruled that the summons conviction posted to a resident in the Republic of Ireland had no legal effect as it was not accompanied by a certificate from the Secretary of State.
The issue has come to light again following two recent cases.
Dealing with 32-year-old Donegal man David Spence from Castle View, Raphoe, Judge Meehan advised that the PPS had "misrepresented" the position by posting the summons, and also by claiming his licence could be suspended when there was no power to make this assertion.
Mr Spence had been accused of driving without due care and attention in Dungannon on 3 December 2017.
When told if the case continued and if he was convicted there would be a fine and penalty points, Mr Spence exercised his right to leave the court.
'Your rights must be fully respected'
Two days later, in the same court, the scenario was repeated and Judge Meehan commented further on the potential ramifications of both continuing the practice and the convictions and penalties applied to date.
Fifty-year-old Kenneth Toner, of Gerards Way, Cardonagh appeared in Dungannon district court accused of driving without insurance at Old Dungannon Road, Ballygawley on 29 January 2018.
When it was established the proper criteria had not been followed, Judge Meehan told Mr Toner, "Your rights must be fully respected. It is indeed unfortunate the PPS seek to avoid compliance with legislation."
Judge Meehan told Mr Toner the letter which he had received from the PPS "commanded" him to attend court when there was no power to do so.
Asked if he wished to remain or simply leave, Mr Toner replied, "I'll leave. Thank you."
Addressing the prosecutor, Judge Meehan said, "I continue to repeat, the Gallagher judgment stands and is being disregarded.
"Most concerning is the fact other courts are convicting in these circumstances when the PPS continues to issue summonses by post in breach of the agreed treaty.
"This means all convictions in all courts in which summonses were served by post to Republic of Ireland residents could be void.
"All fines, disqualifications, endorsements, and penalties in each circumstance are also voided.
"The practice is driving a coach and horses through the treaty obligations - a very unhappy situation for all concerned."