New Belfast flag protocol a step to 'improve relations'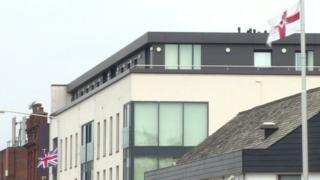 A DUP MLA says he is convinced those behind a new flags agreement in the Ballynafeigh area of Belfast are "trying to improve community relations".
Christopher Stalford welcomed the move which will limit the number of flags on the Ormeau Road and the length of time they are in place.
No flags linked to paramilitary groups will be flown.
Last year, residents in the area protested against the flying of flags.
In June 2017, more than 100 people attended a rally on the Ravenhill Road after a number of flags, including Ulster Volunteer Force (UVF) flags, were erected in mixed housing estates.
The new agreement aims to remove the flying of flags linked to paramilitary groups - with only the union flag and Ulster banner flown.
It also states that flags will be displayed from the middle of June until early September, and that only one flag will be flown on each lamppost.
'Shared space doesn't have to be neutral'
Those behind the initiative said "as per previous years, there will be no flag on the lamppost nearest the Catholic Church near Rosetta roundabout".
Christopher Stalford told BBC Talkback that he welcomed the move, adding: "I do not want this to become an annual argument or row".
"This is a genuine attempt to move the issue forward, to move us beyond where we were last year," he said.
"It's a diverse area, it's a shared space, and a shared space doesn't have to be a neutral space."
'Not right to claim space this way'
However Alliance councillor, Emmet McDonough-Brown said "while the absence of paramilitary flags is welcomed, we run the risk of missing the problems."
"The lampposts don't belong to one part of the community - they belong to us all," he said.
"People are entitled to fly flag outside their own homes, but should not mark out arterial routes.
"It's not right that people can claim space in this way."
SDLP MLA Claire Hanna also welcomed the move, but questioned the "self-regulatory" nature of the protocol.
"It's dominating the public space for a minimum of a quarter of a year, and there is little advice as to what happens when they don't come down," she told the BBC.