NI weekly paper review: Loyalist threat to drug gangs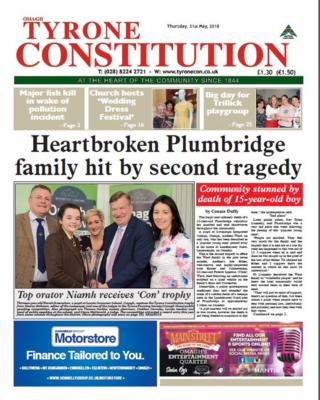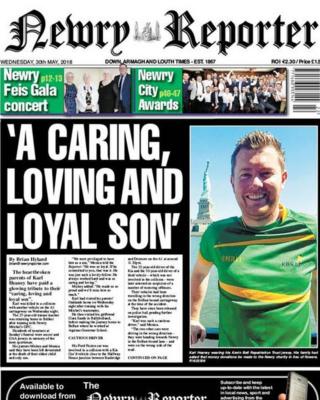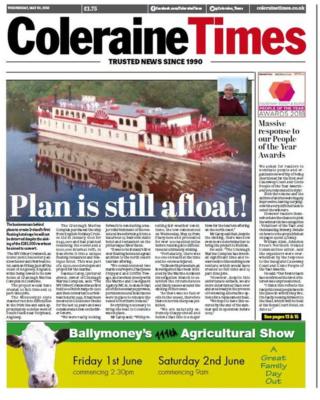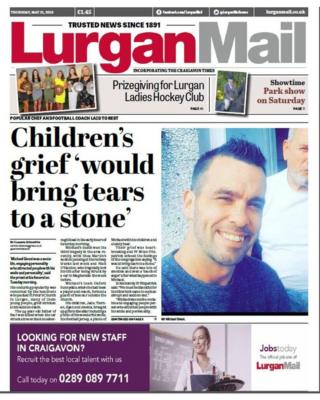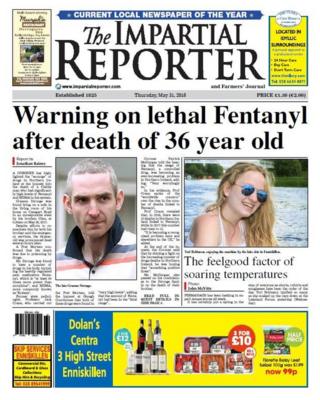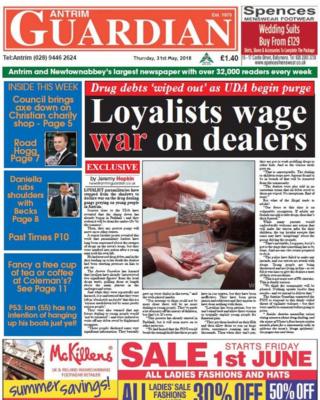 The dangers of narcotics feature heavily in the weekly newspapers, with the Antrim Guardian reporting that loyalist paramilitaries have "declared war" on drug dealing gangs preying on young people in the town.
In a front page exclusive by Jeremy Hopkin, it says sources close to the UDA have revealed that the clampdown has already started in the Parkhall area.
The newspaper reports that a senior loyalist source said paramilitary leaders have been "sparked into action after a young man took his own life", following pressure from dealers to settle debts.
It claims loyalists have already "interviewed two significant figures" from the local drugs trade and that they were left in no doubt this is a "serious crackdown led by some pretty serious people".
They were also warned future dealing to young people would "not be tolerated" and ordered them to write off any debts owed by teenagers.
The Antrim Guardian said it had contacted the Police Service of Northern Ireland (PSNI) to respond to "this thinly veiled threat of vigilante violence", but that it was unable to comment before going to press.
In a separate story, an Ulster Unionist Party councillor has called for a concerted bid to tackle drug dealing around Antrim train and bus station.
Jim Montgomery says it is a "disgrace that it is going on right under our noses on a daily basis and is not being tackled".
He says statutory bodies need to "step up and do their job" and interim security should be increased at the train station and other areas.
On the Impartial Reporter's front page, a coroner has highlighted the "scourge" of drugs in Northern Ireland at the inquest into the death of a Clabby man who had significantly high levels of Fentanyl and MDMA (ecstasy) in his system.
The court heard Graeme Stronge was found lying on a sofa in the living room of his home on Camgart Road in an unresponsive state by his brother Glen on 28 May, 2017.
A post-mortem examination confirmed his death was due to poisoning by drugs.
Coroner Patrick McGurgan told the hearing that the use of Fentanyl, a controlled drug, was becoming an ever-increasing problem in Northern Ireland.
Elsewhere, the newspaper reports that a "productive meeting" was held this week in a bid to resolve a dispute over the siting of a memorial to the victims of an IRA bomb on Remembrance Sunday 1987.
Proposals for the memorial to be situated outside the Clinton Centre were formally rejected by St Michael's Diocesan Trust earlier in May.
The Dean of Clogher, the Very Rev Kenneth Hall, chaired a meeting on Tuesday in relation to the memorial with various groups.
He said "progress has been made after a very productive meeting and we are working together on a resolution to the matter".
The Coleraine Times reports that a businessman who planned to create a floating hotel at Crannagh Marina Complex will not be deterred despite the sinking of the riverboat he planned to convert.
The vessel, called the MV Oliver Cromwell, started sinking last Friday about 12 miles (19km) west of South Stack near Holyhead, Anglesey.
Holyhead Coastguard was called, but could not stop the boat, which was purchased for £245,000, sinking into the Irish Sea.
Seamus Carey, owner of Crannagh Marina Complex, said there was now even more determination to bring the project to fruition.
"The Crannagh Marina Complex has invested significant time and resources into this exciting new venture, which would have created 20 full-time and 15 part-time jobs," he said.
Mr Carey added that the process of reviewing alternative options for a replacement boat had already started.
The Newry Reporter leads with a tribute from the parents of Karl Heaney, who was killed in a crash on the A1 last Wednesday night.
The 27-year-old trainee teacher was returning to Belfast, after training with Newry Mitchels Gaelic Football Club, when the collision happened close to the Halfway House junction between Banbridge and Dromore.
His parents Mickey and Monica said they were devastated at the death of their only son who they described as "caring, loving and loyal".
Two people were arrested on suspicion of a number of motoring offences following the crash and they have been released on police bail pending further investigation.
Elsewhere, the newspaper's editor Paul Welsh gives Newry Mourne and Down District Council a grilling over most of page six, under the headline "This is not a game so don't play us for fools".
Mr Welsh says the council has pledged £20m towards the development of a new civic centre in the city, but that it should be providing more answers on how the money will be spent.
He adds that in response to four separate media queries that relate to the £20m pledge, the council sent the same 25-word response.
It read: "Newry, Mourne and Down District Council will be issuing a news release early June 2018, which will provide an update on the Newry Regeneration Projects."
"Children's grief 'would bring tears to a stone' is the headline on the front of the Lurgan Mail as it reports on the death of Michael Ginesi, 34, a father-of-four who was killed when his car struck a tree on the Annesborough Road last Saturday morning.
Mr Ginesi's football team, Oxford Sunnyside FC, where he had been a player and coach, formed a guard of honour outside St Peter's Church in Lurgan for his funeral.
His children brought a number of mementos to the altar, and the quotes in the newspaper headline reflect the comments of Father Brian Fitzpatrick at the service.
'Criminal vandalism'
The Lurgan Mail, in a separate story, says that there have been calls for more security at Shankill Graveyard in the town after 13 historic headstones were vandalised.
Police have described the actions of those responsible as "thoughtless, criminal vandalism".
History enthusiast, Jim Conway, who conducts tours at the cemetery, said he was "gutted" at the attack in the graveyard which he said dated back to "neolithic times".
"The whole history of Lurgan can be traced to this area," he added.
The sudden death of a 15-year-old boy from Plumbridge makes the front page of the Tyrone Constitution.
Aodhán Ward, a pupil at Drumragh Integrated College, died at his home in Lisnacreight on Monday. Police said his death was "not being treated as suspicious".
Aodhán's father, County Tyrone businessman Patrick Ignatius (Nishi) Ward, was killed in a quad bike incident in November last year.
Separately, the newspaper also reports that a major pollution incident on the Owenreagh river near Dromore which subsequently stretched over 16 miles is believed to have left thousands of fish dead.
There was a spillage of at least 100,000 gallons of slurry from a ruptured concrete lagoon on a farm.
The paper says the river and its tributaries are "hugely significant" in terms of spawning and nursery habitat for wild brown trout, Atlantic salmon and various other fish species.