Newspaper review: Drugs warning and family's plea over Belfast murder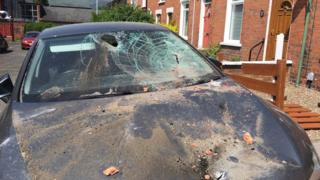 A police warning about drugs following the death of a 34-year-old man in County Londonderry makes the front page of the Irish News on Tuesday morning.
Although the exact cause of death of the man in Moneymore has not yet been established, police have said a "possible link to drug or substance abuse is a strong line of enquiry".
The newspaper says it is understood the man who died was from Cookstown in County Tyrone.
Police added that a 26-year-old man is in a serious condition in hospital and that several other people may have become unwell after taking drugs.
A "roof rampage" in south Belfast which caused damage to homes and cars also features on the front page of the paper.
Homes in Ashley Drive had to be evacuated during the incident on Sunday night after reports of a man on the roof of a house. People were only allowed to return on Monday morning following structural surveys.
Damage was caused to roofs and several cars were damaged by masonry and slates. A 26-year-old man has been arrested.
The News Letter leads with the news that a senior DUP figure has said the prime minister may face "consequences" if she permits her MPs to have a free vote on a bill to liberalise Northern Ireland's abortion laws.
A number of Conservative MPs have indicated they are prepared to support legislation to reform the laws in Northern Ireland.
DUP chairman Lord Morrow has warned Theresa May would "regret" allowing her party to vote in favour of such legislation.
A government spokesperson has said abortion law is a devolved matter in Northern Ireland.
The abortion debate also rumbles on in the Belfast Telegraph, as it reports on a pro-choice rally in the city on Monday organised by a group called Solidarity with Repeal.
It says that demonstrators, inspired by the vote in the Republic of Ireland's abortion referendum, said politicians in Northern Ireland "can't simply replace the planes to England with buses to the south".
The Belfast Telegraph's front page focuses on the Belfast family of an IRA murder victim who say they feel "greatly let down" that his case has not been given the same level of attention as that of murdered German backpacker Inga Maria Hauser.
James Henry Babington was shot dead by the IRA in north Belfast in 1989.
His son, Marcus, has said he expects "the authorities not to sit and wait for someone to knock their door and volunteer information", but to "go out and look in the community as they did for the Hauser murder".
The dementia fears of Northern Ireland television presenter Eamonn Holmes make the front page of the Daily Mirror, as he reveals he would rather be assisted in dying than live with the condition.
The 58-year-old, who is originally from Belfast, said he believes a number of his relatives had dementia and he does not want to go through the same ordeal.
"It's what everyone dreads," he told Best magazine. "It's a long, lonely walk - one I would never want to go on.
"I genuinely say to all my children and my wife 'Take me to Switzerland and press the red button'. "That is what I want."
On a sunnier note, the warm weather in Northern Ireland makes a splash in many of the papers including the Mirror which says temperatures soared to highs of 23C on Monday.
'Retiring referee'
Sun worshippers on beaches get a starring role in several photographs and the good news is the mercury is set to rise to 20C again on Tuesday.
A harpist on Ballycastle beach, promoting the Rathlin Sound Maritime Festival, features on the front page of the News Letter, but elsewhere it reports the sun is setting on the career of one of the oldest football referees in Northern Ireland - at the age of 76.
Ivan Parkinson, from Belfast, has been a referee at schoolboy and amateur level for more than 50 years.
He once took charge of a game involving a young Norman Whiteside and coached George Best's brother Ian.
When Ivan started, he received £1.50 a match, but his last fee was £40 plus travel costs.
"I've more or less retired, but a lot depends on how I feel come August," Ivan said.
"I might be tempted to do the odd match to help out."