Belfast: Army veterans call for 'level field' on Troubles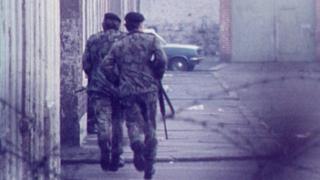 Army veterans have held a rally in Belfast against what they call the government's appeasement of terrorists involved in murders in the Troubles.
They claim they are being treated unfairly by the government over controversial killings in the past.
Earlier this month, the prime minister said the system for investigating the past in Northern Ireland was "unfair".
Theresa May said only people in the "armed forces" or "law enforcement" were being investigated.
However, in 2017, figures obtained by the BBC challenged claims that Troubles investigations unduly focused on those committed by the Army.
Speaking at the rally outside Belfast City Hall on Monday, organiser Wilfie Brown said: "We cannot be held accountable for something that happened 42 years ago in the line of our duty.
"This has turned into a groundhog hunt for veterans across the board, especially those who put their lives on the line."
Mr Brown said that veterans were not calling for an amnesty. He said they want a "level playing field" on how controversial events from the Troubles are being investigated.
"We have been left behind. We have had no voice since the agreements were done. It's like the British government walked away from us."
Mr Brown said republicans had been granted amnesties.
"They have their on-the-run letters although people said they are not worth the paper they were written on.
"They have had their pardons from the Queen. We, as the people who served here, are being left behind and it is not going to happen any more."
The veterans were joined by DUP MP Gavin Robinson at the rally.