Plogging by the River Foyle tackles Derry's litter problem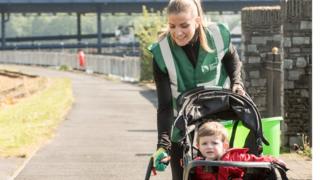 An eco friendly fitness phenomenon that combines jogging with picking up rubbish is being used to combat plastic pollution in Londonderry.
Plogging started in Scandanavia in 2016 but has since gone global.
It comes from the Swedish "plocka upp" meaning "pick up".
Derry's ploggers have been jogging on the banks of the Foyle to mark Keep Northern Ireland Beautiful's Clean Coasts week.
It is the first time a plogging event has been held in the north west and those participating collected 22 bags of rubbish within a three-mile distance in an hour and a half.
Fireworks, pots and pans, a drill, shopping trolley and carpet were just some of the items discovered in the three-mile route that began at the Foyle Valley Railway.
'We ended up picking more than ten bags'
Ruiqi Chen, 35, who had just completed his weekly park run before plogging for the first time, described the state of the Foyle river pathway as "shocking."
He said: "We ran into this big kind of pool of rubbish near the bank.
"It wasn't just myself, but our small plogging team, of which there were about four of us, that started picking it up before a couple of others joined us.
"We ended up picking more than 10 bags and I was shocked to see it all.
"It was just very disappointing."
Mr Chen said he saw the event as a great opportunity to "contribute to the community" and stressed the importance of keeping Derry as litter-free as is possible.
He added: "It's a beautiful river in Derry and I think it will be really good for everybody to try and keep it clean.
"I love running along the river myself, and if the rubbish piles up it won't be a very nice run for much longer.
"So, I think it's quite important to do this and I'd definitely go plogging again and I'd have to invite my friends or colleagues to join in."
Plastic pollution is a big problem in Derry
Derry's Mayor Maolíosa McHugh said he admired the city's ploggers.
"It's perfect for any runners looking to stretch their legs ahead of the Walled City Marathon."
He said plastic pollution was an enduring problem locally.
"Sadly, some people have no respect for our environment and plastic bottles, bags and packaging are commonly dumped on some of our most beautiful walkways," he added.
Derry City and Strabane District Council's head of environment Conor Canning said the local authority spends more than £3m annually to address the problem of litter.
"The level of plastic pollution is a serious problem which is damaging our rivers, countryside and urban environment.
"Not only is it unsightly and costly to remove, it's really harmful to wildlife, taking decades to degrade," he said.
How Blue Planet II helped turn the tide
Public opinion started to turn against plastic following the broadcast of David Attenborough's BBC series Blue Planet II in November 2017.
The series' first episode detailed the damaging impact that single-use plastic is having on the world's oceans.
In January, Prime Minister Theresa May pledged to eradicate all avoidable plastic waste in the UK by 2042.
Ian Humphreys of Keep Northern Ireland Beautiful said people are becoming more aware about the dangers of plastic.
"Plastic litter that gets washed into the seas kills untold numbers of sea birds, turtles and marine mammals. The reality is littered plastic kills but it never dies."
He said it was fantastic to see people in Derry get involved "in removing litter from our coast and having a bit of craic at the same time".