'Bonfire diversion' row breaks out at Belfast city council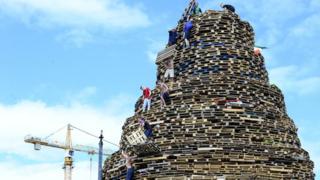 A row has broken out among Belfast city councillors over £400,000 for events to reduce tension around bonfires.
BBC News NI has learned that £180,000 of the funding comes directly from money the council raised for the failed European Capital of Culture bid.
DUP, Sinn Féin and PUP councillors on the strategic policy and resources committee voted to fund the "summer diversionary events."
Alliance, SDLP and UUP councillors have criticised how the decision was taken.
'Community visualisation'
According to council documents seen by BBC News NI, seven groups and events are being funded.
Féile an Phobail, also known as the West Belfast Festival, is to get £100,000.
Northern Ireland Alternatives community festivals in east Belfast (£50,000), New Lodge (£40,000) and Market (£10,000) areas are also being given money.
Belfast South Community Resources, based in Sandy Row in south Belfast, is to receive £26,521.
The Twaddell Woodvale Residents Association is to receive £100,000 to run a "major event on 11 July in Woodvale Park".
Finally, £80,000 is being provided to the Ulster-Scots Community Network for a "community education programme, community visualisation programme and three-year strategic planning process for a new festival".
'Pork-barrel politics'
The Woodvale and Ulster-Scots funding - totalling £180,000 - is "to be taken from the European City of Culture budget," according to the committee's decision register.
The register also said the decision was not subject to call-in, which reduces the level of scrutiny it was subjected to.
Ulster Unionist Party (UUP) councillor Jeff Dudgeon said he was shocked there was no application process for the funding.
"It's basically pork-barrel politics," he said.
"I was concerned when we didn't get access to European Capital of Culture, as we'd set aside millions in the rates budget and even increased the rates deliberately for that purpose.
"I was fearing what exactly happened, that people would raid those moneys."
'Good summer'
However, Democratic Unionist Party (DUP) councillor Lee Reynolds, who voted for the funding, said it was not just about "bonfire diversion".
"Some of these parties will stand up and condemn when the DUP and Sinn Féin don't agree, and then if we do have something that we are both willing to vote for they still find reasons to condemn us," he said.
"It is a sensible investment to deliver a good summer for our city."
According to an earlier council document obtained by BBC News NI, £795,000 had been set aside as a reserve to progress the European Capital of Culture bid.
The capital of culture scoping document, circulated to the city growth and regeneration committee in early May, detailed plans for a five-year cultural programme until 2023 even though the European bid had fallen through.