Brexit: MPs warn border remains a "cause for concern"
By Stephen Walker
BBC News NI Political Correspondent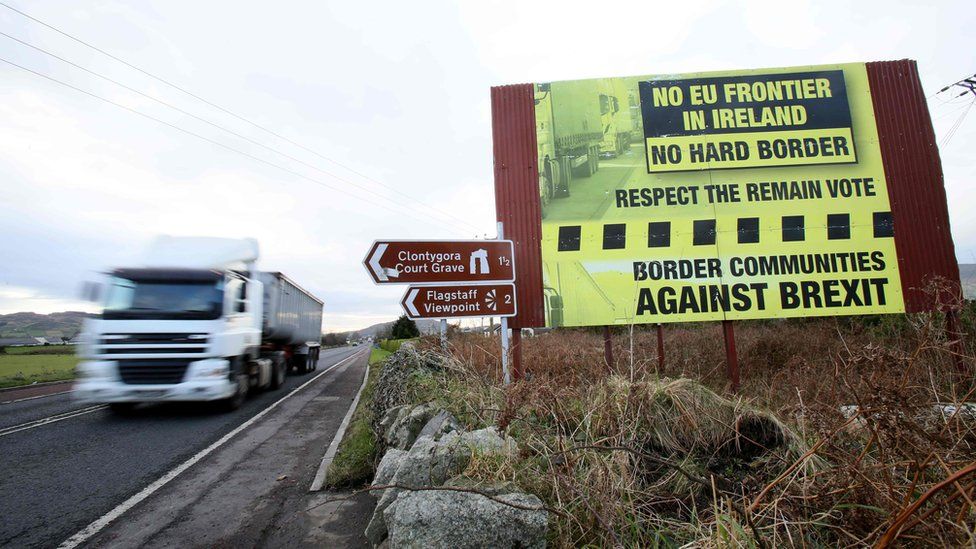 A lack of clarity of what the Irish border will look like after Brexit remains a "cause for concern", MPs have warned the government.
The warning is contained in a report from Westminster's Brexit committee.
The committee's latest report concludes that "the lack of clear proposals for maintaining a frictionless border remains a cause of concern."
The report also states: "Although the government's preferred method is to do this through the overall future relationship, it has yet to decide whether to pursue a 'new customs partnership' or 'maximum facilitation' as its customs arrangement.
"The government has also not yet set out a detailed counter-proposal for the legally operative 'backstop' option, which the secretary of state has now said would apply to the UK," it adds.
The report claims that "any backstop must be acceptable to all sides and calls on the government to set out its alternative as a matter of urgency, while making it clear it will be seeking a permanent solution."
On customs arrangements and trade, the short document says that it is "highly unsatisfactory" that nearly two years after the EU referendum, ministers have yet to agree and detail what kind of trading and customs arrangements they seek after Brexit.
The chairman of the committee, Labour MP Hilary Benn, said time is now of the essence.
"The government needs to come forward with its proposals as soon as possible to demonstrate how an open border, with no checks and no infrastructure, can be maintained," he said.
This latest report from the Committee on Exiting the European Union is based on evidence given by the Brexit Secretary David Davis.
He was accompanied by the Northern Ireland Secretary Karen Bradley and Business Secretary Greg Clark.