Northern Ireland parties 'should be locked in room until deal'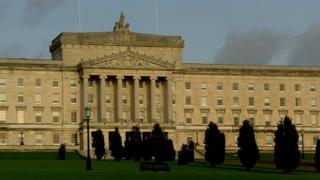 The government has been urged to bring the Northern Ireland parties together for talks and "lock the doors" until they reach a power-sharing deal.
The call was made by the Labour leader in the House of Lords, Baroness Smith of Basildon.
Lord Empey told peers Northern Ireland was in a "state of paralysis".
Northern Ireland has been without a devolved government since January 2017, when a coalition led by the DUP and Sinn Féin collapsed.
Labour former Northern Ireland secretary Lord Peter Hain argued "the longer the assembly and the executive are down, the harder it is to get back up".
He urged the government to draw on past lessons in overcoming obstacles in Northern Ireland and called for the prime minister Theresa May to convene a summit, along with Taoiseach (Irish prime minister) Leo Varadkar.
"Keep the parties at that summit... until there is an agreement," Lord Hain added.
"I believe strongly that is the only solution in sight."
'State of paralysis'
Northern Ireland Minister Lord Duncan of Springbank said: "Nothing is off the table."
Lord Duncan said the "the preferred option, the sensible option, the right option" was to have an executive at Stormont.
Former Ulster Unionist leader Lord Empey highlighted a recent Belfast High Court judgment which blocked an incinerator plant because a senior civil servant did not have the power to approve the planning application.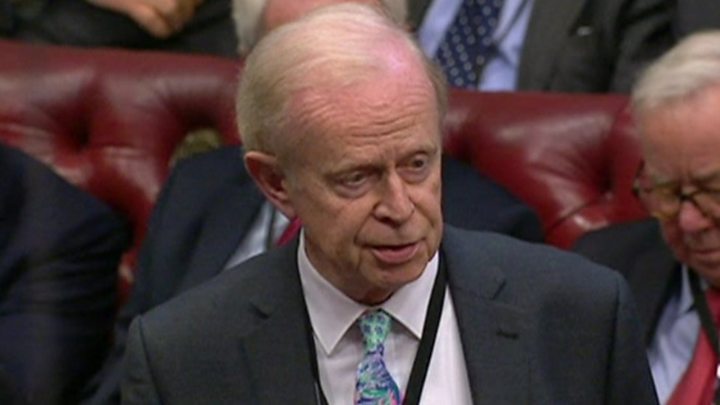 "As a consequence, all significant decisions that have hitherto been taken by senior civil servants have now stopped," he said.
"How can the minister and the government honour the commitments to ensure the effective and efficient delivery of public services to the people of Northern Ireland with this state of paralysis that has now ensued?"
'In cahoots'
Lord Duncan said the government was studying very carefully the judgment, which may be appealed.
"It is a reminder that we do need that restored executive because we cannot keep placing upon the shoulders of civil servants such a heavy and onerous burden," he said.
Baroness Blood told the House that Northern Ireland now had "almost an invisible secretary of state," referring to Karen Bradley who has faced criticism for her handling of talks aimed at restoring devolution.
She said: "The one question that is being asked on the streets of Northern Ireland today is 'who is actually running Northern Ireland?'
Lord Duncan repeated that devolved government must be restored at Stormont.
"We need to get the executive back up and running... at the moment the pilot light is on but no-one is twirling those knobs," he said.
Independent Ulster Unionist peer Lord Maginnis of Drumglass claimed Mr Varadkar was "in cahoots" with Sinn Féin to block the restoration of devolved institutions.
On Tuesday, MPs on the Northern Ireland Affairs Commitee urged Northern Ireland Secretary Karen Bradley to "redouble" her efforts to restart talks aimed at restoring devolution.
The Northern Ireland Office said restoring the executive was a top priority.