David Black murder 'meticulously planned'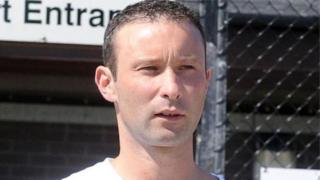 Convicted dissident Damien McLaughlin not only had motive, but also opportunity for his alleged involvement in the "murderous attack" of prison officer David Black, a court has heard.
The claim was made as the 41-year-old went on trial at Belfast Crown Court on Wednesday.
He faced charges arising out of the murder of 52-year-old father-of-two in November 2012.
Mr Black was shot as he drove to work on the M1 in County Armagh.
The court heard McLaughlin, from Kilmascally Road near Ardboe in County Tyrone, allegedly drove a Toyota Camry car across the border from the Republic of Ireland.
The trial judge, sitting alone in the no-jury trial, heard that Mr Black's ambush and assassination was a "murderous attack ... not opportunistic".
Listening to the prosecution claims were Mr Black's widow Yvonne and son Kyle.
The judge heard the attack "was meticulously planned and a number of people were involved in the operation".
The family also heard that "these people must have identified his home, kept it under observation and also noted his movements and his car, and the route he used to drive to work".
The court was told that Mr Black, who changed his plan to ask for a day off on the morning of his death, was shot three times as he drove his Audi car along the motorway by a gunman using an AK47 Assault Rifle.
'Bang and smoke'
At least four other shots were fired from the Toyota Camry as it drove alongside him.
Other motorists reported hearing "a bang" and seeing smoke and muzzle flashes coming from the passenger-side window of the Toyota.
The prosecution further claimed that Mr Black was murdered "as a direct result of the perceived grievances of those detained at Maghaberry".
McLaughlin, serving a sentence for possession of firearms, was one of those later convicted of criminal damage to prison property in a protest over conditions in Maghaberry.
Earlier, the court heard that the Toyota car had been bought in Dublin by Vincent Banks, later convicted of IRA membership.
CCTV
It is the prosecution case that Banks drove this vehicle to Carrigallen in County Leitrim, where it was "hidden in plain sight" in a lay-by and allegedly picked up three weeks later by McLaughlin.
McLaughlin, it was claimed, was identified by both Garda and PSNI officers from CCTV in a garage in Carrigallen and also named by a local man who claimed to have supplied him with a battery for the car.
McLaughlin denies a total of six charges, including aiding and abetting, counselling and procuring the murder of Mr Black.
In addition to belonging or professing to be a member of the IRA, McLaughlin also faces four charges involving the Toyota car, in that he had possession of it in connection to an act of terrorism.