Disabled school-leavers 'lack support' says Belfast family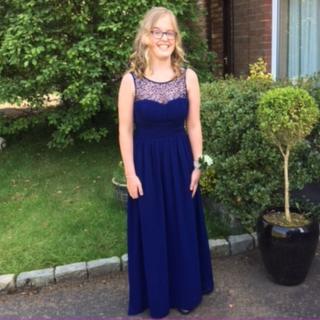 The father of a disabled teenager has hit out at the lack of training and support for young people with learning disabilities after they leave school.
Sam Hagen's 17-year-old daughter, Beth, finished school last year with hopes of working in the hospitality industry.
She began two catering courses but both organisations folded within months.
Mr Hagen said his daughter has been left without education, employment or training while her brother and sisters attend school and university.
'Independent living'
The Belfast family is not alone in facing difficulties trying to help a disabled school-leaver make the transition from the classroom to the real world of work.
There are 1.4 million people with a learning disability in the UK and 42,000 of them live in Northern Ireland, according to the charity Mencap.
In 2016, a Northern Ireland Assembly report said young people with a learning disability were "twice as likely" to be NEET (not in education, employment or training) as those without.
Beth Hagen, who has a moderate learning disability, lives with her family in east Belfast.
As she was not able to attend a mainstream school, she was educated at Longstone Special School in Dundonald.
When she left last year, Longstone's careers adviser helped her get a place on a catering course near her home.
Like most teenagers, Beth wants to earn her own money and her parents believe working in the hospitality industry would help her fulfil her potential.
"She certainly sees herself in the future as holding down a job and being able to live independently," said Mr Hagen.
"Her outlook is no different from what her sisters and her brother would have, that would be her expectation too."
However, he added: "Travel to and from courses is quite important to someone who has moderate learning difficulties because public transport is just not as easy for them."
Last September, Beth began a catering course run by Swann Training on Belfast's Holywood Road, which also offered extra support with maths and English.
In October, the family was told the course had to close due to problems with funding and student numbers.
In January, Beth moved to North Down Training in Newtownards, County Down, but in March it also closed.
'Unfortunate coincidence'
Both Swann Training and North Down Training received funding from the Department for the Economy's "Training for Success" programme.
The department's spokeswoman said although there had been "no change" to its funding arrangements, both organisations had notified it of their insolvency.
She said it was "an unfortunate coincidence" the two organisations were in close proximity, but added "sufficient time was given" for trainees to transfer to alternative courses.
The authorities encouraged Beth to move to a third course at Dr B's Kitchen, run by Barnardo's NI.
However, Dr B's Kitchen shut last month after funding from the Department for Communities was withdrawn.
On hearing of the latest closure, Mr Hagen contacted BBC News NI to highlight the lack of suitable provision for school-leavers with learning disabilities.
The challenges of moving to a new environment can be difficult for any teenager, but they are particularly hard for Beth.
'Unsettling'
Although she was also offered a retail training placement, her family was reluctant to send her to a third course on a totally different subject within the same academic year.
"It had quite an effect in terms of unsettling her and all of the things she had learned about how to get there; the people that she knew; the relationships she had built up - they all just finished," said Mr Hagen.
"To have built them up again, and for that [second course] to finish without much warning, I think her self-esteem was affected."
To prevent Beth sitting at home without any training, the family arranged voluntary work in charity cafes.
'Working for free'
Mr Hagen said although they were grateful for these placements, Beth was missing out on numeracy and literacy lessons that form part of funded courses.
Losing her place on the courses also meant she is no longer entitled to a £40-a-week training allowance, so now she "works for free" four days a week.
Mr Hagen said although the £40 was not essential to his family, it was very important to his daughter.
"For Beth, it gave her a degree of independence. She was able to go and pay for her own bus fare, she was able to go and take money out with her bank card," he said.
"So the learning that comes from coping with everyday life and managing your money, she's currently not able to do."
He said Beth was beginning to compare her own opportunities to that of her siblings.
Mr Hagen said his other three children were "provided with full-time education until the age of 18" while she had to leave school at 16.
"There is no school provision for Beth at 17 and 18 years of age... she's not getting the same opportunities to progress towards that end goal of independent living".
He added: "Beth just doesn't see herself as disabled, she doesn't see herself as being any different from her brother and sisters and that's why it's quite confusing to her that her roadmap this year has been so different."
The wider picture across the UK brings little comfort.
Recent research by Mencap found only 6% of people with a learning disability are in paid employment in England, while in Scotland it is 6.7%.
Northern Ireland does not publish this specific data, but statistics from the most recent Labour Market Report supplement showed only 35% of working-age people with all forms of disabilities had a job.
Mr Hagen argued the lack of suitable training meant Beth was being "discriminated against" on grounds of disability.
In statements, the Department for the Economy said it "delivers a range of skills-based programmes through local colleges and other, contracted, training suppliers".
The Department for Communities said it "supports a range of organisations across Northern Ireland to deliver work focussed support to help people with disabilities and health conditions to access suitable work".