Canon Francis Brown speaks out over historical allegation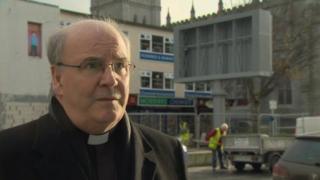 A priest based in Newry, County Down, has confirmed he has stepped aside from public ministry while a historical allegation against him is investigated.
Canon Francis Brown, administrator of Newry Cathedral Parish, has issued a statement saying he expects to return to work when the investigation is over.
Earlier, the PSNI said they were investigating "an historical allegation of abuse against a member of clergy in the Diocese of Dromore".
The complaint was made in April.
Canon Brown is originally from Hilltown, County Down.
He is a former president of St Colman's College, a boys' secondary school in Newry.
In his statement, he said neither he nor his parish have been informed of details of the allegation as yet, but added he understood the investigation make take "some time".
"Naturally, I have agreed therefore to step aside from my role as administrator of the parish for the time being to allow the investigation to be completed," the canon said.
"In accordance with the agreed protocol, I shall not be involved in ministry during that period of time.
"I wish to reassure all of my parishioners, my fellow priests, deacon and religious that I look forward to a thorough and expeditious examination of this matter and I expect to return to my work in the parish in the near future.
"I hope that you will remember me in your thoughts and prayers in the weeks ahead and I look forward to returning soon to again serve you in the Parish of Newry."
'Cooperating fully'
On Saturday, the Diocese of Dromore confirmed that police were investigating an historical "safeguarding allegation" against one of its priests.
In a statement, it said the priest has "voluntarily stepped aside from all public ministry" while the inquiry takes place.
"The diocese and the priest are cooperating fully with this ongoing investigation"," it added.
The Diocese of Dromore recently lost its bishop after controversy over how he dealt with a clerical child abuse scandal.
Bishop John McAreavey stood down from his post two months ago, after he was criticised for celebrating Mass with Fr Malachy Finegan, despite knowing he was a paedophile.
Fr Finegan, who died in 2002, was a parish priest in Hilltown and was also a former president of St Colman's College.
The late priest has been accused of a litany of child sex abuse against former pupils and a former alter boy in Hilltown.
In March, the PSNI set up a dedicated team to investigate the circumstances of the child abuse carried out by Fr Finegan.