McDonald responds to McGrory legacy views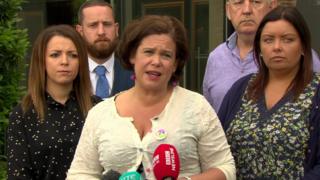 The Sinn Féin president has said all options must be available when dealing with legacy cases.
Mary-Lou McDonald was reacting to comments made by Northern Ireland's former director of public prosecutions, Barra McGrory.
Mr McGrory said prosecutions for Troubles-related murders should be brought to a halt.
He denounced proposals for a new Historical Investigations Unit (HIU) as "convenient politically".
But Ms McDonald said: "The view that we take is that all options have to be available to victims, survivors and their families - and that includes pursuing prosecutions.
"I do accept that with the passage of time things become more difficult and more complicated, but all of the mechanisms are there, they're all set out and have to be made available and we need space for the consultation and the voices of victims and survivors."
She also said that the most important voices are those of the victims and survivors.