SDLP members support conscience vote on abortion matters
By Enda McClafferty
BBC News NI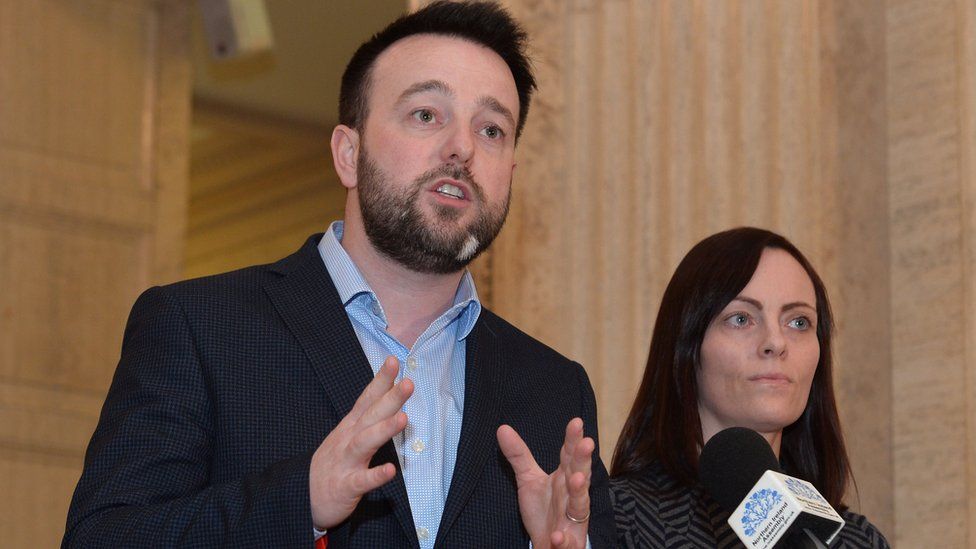 The SDLP has voted to give its members a free vote on all abortion related issues.
It means its politicians can now vote with their conscience even if that goes against party policy.
The decision was voted through at a special conference in Maghera during which members said they also reaffirmed the party's pro-life stance.
It is understood party leader Colum Eastwood and his deputy Nicola Mallon supported a free vote.
More than one hundred party members attended the conference on Saturday.
Anti-abortion campaigners from the group Precious Life staged a protest outside.
Some SDLP MLAs challenged the protestors and questioned their campaign tactics and "moral authority."
Saturday's vote means SDLP politicians will be free to express their views on the referendum.
'Option of moral conscience'
"What we are talking about, and what is up for discussion, is the issue around conscience," he added.
"Can we allow people to have that option of a moral conscience?
"That is the discussion across every political party in Ireland, so it would be strange for us not to have that discussion."
Prior to the conference, other senior figures within the party came out in favour of allowing a free vote including former deputy leader Bríd Rodgers.
"This is not a black and white issue and that is why I believe the party whip should not be applied.
"No one should be forced to vote against their conscience." she said.
Ms Rodgers is unable to attend the conference but it is understood other senior figures, past and present, will address the gathering before a series of secret votes.
Delegates were asked to vote on a number of motions including reaffirming the party's pro-life stance, but also supporting terminations in cases of rape, incest and fatal foetal abnormality.
Northern Ireland's abortion laws are more strict than the rest of the UK.
An abortion is allowed only if a woman's life is at risk or there is a serious or permanent risk to her mental health.
Rape, incest and fatal foetal abnormalities are not circumstances in which an abortion can be performed legally.
The amendment, which was introduced in 1983, "acknowledges the right to life of the unborn".