Former DUP MP William McCrea to get peerage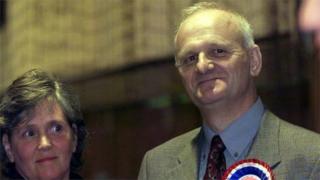 The former Democratic Unionist Party (DUP) MP William McCrea has been nominated to the House of Lords.
The move will increase the DUP's current number of peers to four.
The Queen approved the nomination of 13 new peers early on Friday evening, with Mr McCrea being the only nominee from the DUP.
The new peer nominations include nine members nominated by Theresa May and three nominated by Jeremy Corbyn.
Mr McCrea told BBC News NI that he was "thrilled and humbled".
"It is a honour and privilege to represent the people of Northern Ireland in the House of Lords."
'Deserving of this honour'
DUP leader Arlene Foster congratulated Mr McCrea, adding that he was "most deserving of this honour".
"I know he will use this new position to champion public policy issues such as the provision of adult learning facilities for people with special needs," Mrs Foster said.
"Undoubtedly he will be an excellent advocate for this cause in the House of Lords."
Mr McCrea, a Free Presbyterian minister, served 25 years in Parliament. He also spent 12 years in the Northern Ireland Assembly.
He was the first Northern Irish MP to sit on the speakers panel chairing the committee stages of bills both in committee rooms and in the House of Commons.