Man jailed for hitting teen with a bottle of Buckfast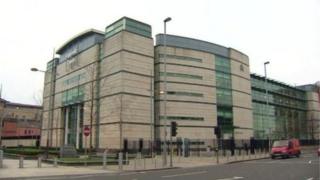 A man who hit a teenager in the face with a Buckfast bottle in an underpass at Craigavon Lakes has been jailed.
Jeffery Kelly, 27, from High Street in Gilford, County Down, was handed a two-year sentence on Friday.
He will spend six months in prison with the remaining 18 months on licence.
Judge Sandra Crawford branded the drunken incident as a "heinous and brutal attack on an entirely innocent youth".
Judge Crawford recommended that as part of his licence conditions, Kelly has to attend programmes to reduce his offending and to address his drugs and alcohol issues.
Verbal confrontation
Before she passed sentence at Craigavon Crown Court, sitting in Belfast, Judge Crawford heard the incident happened in the subway close to the Lakes on the evening of 12 March 2016, when Kelly attacked the 16-year-old.
Both the teenager and Kelly had been drinking and after a row, Kelly hit the teenager on the face with the bottle.
Bandaged
The attack left the teenager with blood dripping down his face and after being helped from the underpass by a friend, he went to hospital where his eye was bandaged.
The prosecution said when the teenager got home, his father took him back to the hospital, where he underwent an X-ray, followed by surgery for a broken nose and a fracture around his right eye.
The court was also told that the teenager looked on Facebook, saw an image of Jeffrey Kelly and identified him as his attacker. The incident was reported to police on 14 March, and Kelly was interviewed at Lurgan police station 10 days later.
Despite telling police the witnesses didn't know what they were talking about, Kelly later pleaded guilty to causing grievous bodily harm to the teenager and possessing a weapon - namely the bottle of Buckfast.
It also emerged that Kelly has a criminal record, including using a bicycle as a weapon.
'No excuse'
A defence barrister revealed his client was exposed to domestic violence as a child and, despite leaving school with no qualifications, had a "good work record".
Handing Kelly the two-year sentence, Judge Crawford said it was "through sheer good fortune" that the Buckfast bottle didn't smash in the "unprovoked attack" which she said must have been an "extremely distressing experience".