Lord Kilclooney has 'high hedges' charge withdrawn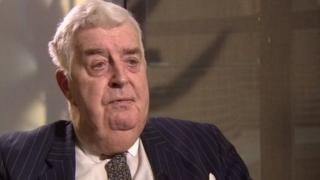 Former Ulster Unionist Party deputy leader Lord Kilclooney has had a 'high hedges' charge withdrawn.
The peer had been accused of failing to comply with an order to cut the hedges at his home in Armagh.
On 24 January, 80-year-old Lord Kilclooney had been given one month by Armagh, Banbridge and Craigavon Council to comply.
In April, the council brought the matter to court under the High Hedges Act (Northern Ireland 2011).
The council claimed that Lord Kilclooney had failed to adhere to the terms of a remedial notice ordering the cutting of hedges.
In response to publicity around the story at the time, Lord Kilclooney posted a tweet which said: "In fact, hedges were reduced in height last year and the remainder last week. The local council has failed to advise the court."
On Friday, it was confirmed that the charge has now been withdrawn.
Convictions
According to the Department of Agriculture, the High Hedges Act aims to help people who are adversely affected by high hedges bordering their domestic property.
Courts Service has told the BBC that since its introduction, just four people have been prosecuted for failing to cut back their hedges.
"For the period up to the end of end 2017, there have been fewer than four convictions for offences under this legislation," a statement read.
"To date, the only offence prosecuted under this legislation is 'Failing to comply with Remedial Notice'. The main penalty imposed in each case was a fine."