Former DPP says Troubles prosecutions should cease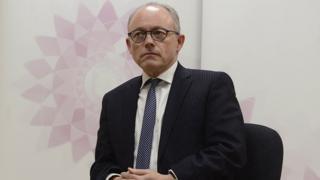 NI's former Director of Public Prosecutions has called for a halt to criminal prosecutions for murders carried out during the Troubles.
Barra McGrory denounced proposals for a new Historical Investigations Unit (HIU) as "convenient politically, but not really properly thought through".
The HIU would take over the task of re-examining 1,700 unsolved murders from the police and the police ombudsman.
Last week, a public consultation on the legacy of the Troubles was launched.
The government consultation was based on plans agreed by the local parties under the 2014 Stormont House Agreement.
It also included an Information Retrieval Commission intended to provide extra details to the families of troubles victims.
Both bodies are meant to complete their work over a five-year period.
Poor evidence
However, in an outspoken interview with BBC Radio Ulster's Inside Politics, Barra McGrory QC expressed his belief that "the vast majority of these cases (taken on by the HIU) will not end in successful convictions".
The former Director of Public Prosecutions (DPP) warned that the creation of the HIU would raise expectations, but "the evidence isn't going to improve".
"Time cannot be wound back, so the quality of the evidence will still be very poor," he continued.
"There will be few convictions and in respect of those convictions, people will not be serving sentences commensurate with what they have been convicted for."
Under the Good Friday Agreement those convicted of Troubles related murders before 1998 will only serve two years in jail.
The former DPP asked: "Is that really justice?
"Because justice suggests to me that there will be an efficient criminal process that will throw up convictions in a reasonable number of cases and that those convicted will serve sentences commensurate with the crime they have been convicted of committing.
"That is justice.
"But my terrible fear is that that will not be a consequence of this process.
"And where is it going to leave us?
"At the end of five difficult years, millions spent, much emotional energy invested, will we be any better off?"
Information gathering
Mr McGrory believes the emphasis on trying to secure criminal convictions will inhibit the parallel work due to be carried out by an Information Retrieval Commission.
"Those who are being asked for information will not give it if they are suspected, or think they might be suspected or those they know and associate with might be suspected" of crimes still open to potential prosecution, he said.
He now thinks a halt should be brought to Troubles criminal prosecutions and investigations should be geared towards information gathering.
"Information can be used by a tribunal or body to make findings on a standard lower than the criminal standard and that will have the power to compel those who have information to come forward.
"The problem with a criminal justice process is that I fear those who are truly culpable in terms of our problematic history will be able to hide behind the safeguards which are understandably made available to those who are criminal suspects," he said.
When Northern Ireland's Attorney General John Larkin proposed a moratorium on Troubles prosecutions in 2013 it provoked a political outcry.
Mr McGrory is aware his proposals will be controversial, but points out that he is not arguing simply that a line should be drawn and no other action taken.
He believes there should be an "alternative process to elicit information which is not linked to a criminal sanction".
Mr McGrory was strongly criticised by some Conservative MPs for pursuing prosecutions against some military veterans.
He acknowledges his critics may see "a certain irony" in his current argument, but says that as DPP he "had a specific role to perform".
"But, it is as a consequence of the difficulties of some of those cases that I came to the view ultimately that this might not be the right way to do this," he said.
'Frustration and unhappiness'
The former DPP said that if a statute of limitations was to be introduced solely for former soldiers and police offers "it would not only be susceptible to legal challenge if it favours only state actors, but it would be entirely counter-productive".
"If you bring in a moratorium which protects one side of a multi-faceted conflict, that will only exacerbate the frustration and unhappiness that has been experienced by many of the victims and I would certainly not support that."
Mr McGrory said he was surprised to hear the prime minister tell the Commons last week that the only people getting knocks on the door in Northern Ireland for troubles related investigations are former soldiers.
"Very surprised because it's not true," he said.
"Certainly as DPP there was a clear even handedness in terms of the targets of the investigations being carried out by the PSNI Legacy Unit."
Mr McGrory said there were probably more viable prosecutions against state agents because many of the offences they were suspected of had not been properly investigated previously.
He points out that any deaths caused by soldiers between 1969 and 1972 were investigated by the Royal Military Police, not the Royal Ulster Constabulary.
"Many of those investigations have been found to be seriously wanting which is why PSNI Legacy Branch has had to give priority to those deaths," he continued.
Legacy inquests
The former DPP also expressed concern about the failure of the proposed legacy plan to deal with civil cases related to the troubles.
He said the civil courts are already facing hundreds of writs against state authorities and countless Judicial Reviews against decisions taken by agencies like the Public Prosecution Service.
"If the criminal process which is proposed fails in the way in which I think it will fail, then people will turn in even greater numbers to their civil law rights," he argued.
Mr McGrory describes the delay in releasing funding to enable a backlog of legacy inquests to be processed by the courts as "deeply unfortunate".
The QC echoed comments made by High Court Judge Sir Paul Girvan who recently questioned why no consideration is being given to some form of over-arching tribunal like the Historical Institutional Abuse Inquiry.
The former DPP asked why the government's legacy consultation is "entirely misdirected towards a very narrow criminal process, where it should be looking at a much broader scheme which will actually deliver accountability and deliver answers and which doesn't perpetuate the problem".
Inside Politics is on BBC Radio Ulster on 18 May at 18:05 BST.