Councillors vote against extending Sunday opening hours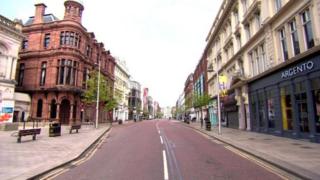 Councillors in Belfast have rejected plans to extend opening hours for large shops on select Sundays during the summer for a second year running.
Unions and independent retailers have welcomed the decision, saying that any change would have been unfair to workers and smaller shops.
However, the Belfast Chamber of Trade and Commerce said it was "a missed opportunity".
The motion not to extend opening hours was carried by a majority of seven.
The same proposal was voted down last May.
The move would have been permitted had the council designated all or part of the city a holiday resort under 1997 legislation.
Holiday status has already been implemented by six other councils in Northern Ireland and would have allowed earlier opening on Sundays up to 18 times a year between March and September.
In the past 12 months, there have been two public consultations - which taken together showed a slight majority in favour of extended opening hours - and the committee vote was deferred twice.
Shops are currently restricted to opening between 13:00 and 18:00 on Sundays.
At a meeting of the council's Strategic Policy and Resources Committee on Friday, Sinn Féin council group leader Deirdre Hargey urged councillors not to approve the request.
Thirteen councillors voted against any change, with six in favour.
'A missed opportunity'
Belfast Chamber of Trade and Commerce President Michelle Greeves expressed frustration at the decision.
"Our city is buzzing on Sunday mornings, with tourists wandering the city, searching for something to do," he said.
"Extended shopping is not the only solution to creating a vibrant city centre, but it offers an additional choice, and would encourage more visitors to our city, where all businesses would benefit.
"The success of retail business in our city centre is essential, as part of the success of our city centre, this is missed opportunity."
However, others retail groups were opposed to an extension, including shopworkers' trade union Usdaw, whose members protested outside City Hall against the proposal.
Mike Aylward from Usdaw said: "We said at the beginning of this campaign that nothing had changed since last year and that proved to be the case.
"The current Sunday trading arrangements are a fair compromise, which has worked well for over 20 years, and gives everyone a little bit of what they want. Retailers can trade, customers can shop, staff can work."
'The right decision'
Retail NI, which represents small retailers, said the move was the "right decision".
Its chief executive Glyn Roberts said: "If the proposed change had gone ahead it would have placed extra pressure on retail workers and would have had a damaging effect on small independent retailers who trade on a Sunday morning.
"Local independent retailers have seen a 71% hike in their rate bills following the last rate revaluation and continue to struggle to stay in business. This proposal would have resulted in a number of local community independent retailers closing."
Mr Glynn said a broader strategy to grow Belfast's weekend economy was needed.
Retail NI has tabled proposals for a campaign to encourage shoppers and tourists to support the city's smaller retailers on a Sunday morning between 11am to 1pm, allowing large retailers to continue to trade from 1pm onwards.