Ex DPP says Troubles prosecutions should cease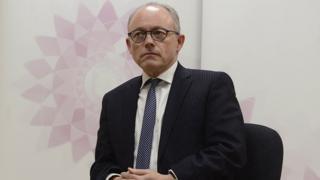 Prosecutions for Troubles-related murders should be brought to a halt, according to Northern Ireland's former Director of Public Prosecutions.
Barra McGrory denounced proposals for a new Historical Investigations Unit (HIU) as "convenient politically".
But he added it had not been properly thought through.
In response a UK government spokesman said it was "committed to building widespread consensus and delivering better outcomes".
The HIU would take over the task of re-examining 1,700 unsolved murders from the police and the police ombudsman.
Last week, a public consultation on the legacy of the Troubles was launched.
However, in an outspoken interview with BBC Radio Ulster's Inside Politics, Barra McGrory QC expressed his belief that "the vast majority of these cases (taken on by the HIU) will not end in successful convictions".
Poor evidence
The former Director of Public Prosecutions (DPP) warned that the creation of the HIU would raise expectations, but "the evidence isn't going to improve".
"Time cannot be wound back, so the quality of the evidence will still be very poor," he continued.
"There will be few convictions and in respect of those convictions, people will not be serving sentences commensurate with what they have been convicted for."
Under the Good Friday Agreement those convicted of Troubles related murders before 1998 will only serve two years in jail.
The former DPP asked: "Is that really justice?
"Because justice suggests to me that there will be an efficient criminal process that will throw up convictions in a reasonable number of cases and that those convicted will serve sentences commensurate with the crime they have been convicted of committing.
"That is justice.
"But my terrible fear is that that will not be a consequence of this process.
"And where is it going to leave us?
"At the end of five difficult years, millions spent, much emotional energy invested, will we be any better off?"
Mr McGrory also said he was surprised to hear the prime minister tell the Commons last week that the only people getting knocks on the door in Northern Ireland for troubles related investigations are former soldiers.
"Very surprised because it's not true," he said.
"Certainly as DPP there was a clear even handedness in terms of the targets of the investigations being carried out by the PSNI Legacy Unit."
Mr McGrory said there were probably more viable prosecutions against state agents because many of the offences they were suspected of had not been properly investigated previously.
He points out that any deaths caused by soldiers between 1969 and 1972 were investigated by the Royal Military Police, not the Royal Ulster Constabulary.
"Many of those investigations have been found to be seriously wanting which is why PSNI Legacy Branch has had to give priority to those deaths," he continued.
In response to Mr McGrory's comments, a UK government spokesman said the current system is "not delivering enough for victims, survivors and for wider society".
"This is why the Government has launched the consultation to seek views on the Stormont house proposals and listen to the concerns of interested parties. We are deeply committed to building widespread consensus and delivering better outcomes for those most affected."
The government consultation, based on plans agreed by the local parties under the 2014 Stormont House Agreement, also included an Information Retrieval Commission intended to provide extra details to the families of troubles victims.
Both bodies are meant to complete their work over a five-year period.
Inside Politics is on BBC Radio Ulster on 18 May at 18:05 BST.