Paddy Jackson has no offers from any clubs, court told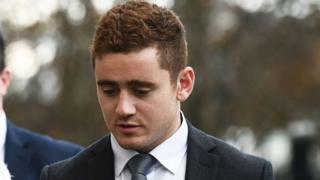 A court has been told that the former Ulster and Ireland rugby player Paddy Jackson currently has no offers from any other clubs.
Mr Jackson is attempting to retrieve his legal costs from his rape trial,.
At a court hearing on Friday afternoon, his barrister said the 26-year-old had paid an "enormous price" for what happened.
The court was told that Mr Jackson's parents had helped him meet his "substantial" defence costs.
Mr Jackson's barrister Brendan Kelly QC told the court: "He is without employment and without offer of employment.
"He has paid an enormous price for the events of that evening despite what we would say was a resounding acquittal in this case."
Mr Jackson privately funded his legal defence during the nine-week trial.
His legal costs are estimated at well over £100,000.
The hearing about costs was held in front of Judge Patricia Smyth, who oversaw the trial.
At the end of the two-hour hearing, she said she will decide on costs at a later date.
But she told the court: "It will not be soon."
'Inexcusable and inexplicable'
Mr Jackson did not attend the hearing but members of his family were in court.
Paddy Jackson's barrister, Brendan Kelly QC, told the court that the rugby player's salary had been halved by his employers after he was charged with rape in the summer of last year.
He also said his father Peter had used his retirement fund to help finance his son's defences costs.
Mr Jackson and former Ulster and Ireland team mate Stuart Olding, 25, were unanimously found not guilty in March of raping a woman at a house party in June 2016.
Despite being linked with other clubs - including Sale in the north west of England - both players are still without a team for next season.
Mr Kelly said it was "inexcusable and inexplicable" that after Mr Jackson was first arrested, it was 13 months before prosecutors charged the two players.
The barrister said the nine-week trial had lasted almost twice as long as first envisaged through no fault of his client. He claimed that if he had been tried on his own, proceedings could have lasted as little as a week and a half.
Mr Kelly said one of the reasons the trial took so long was due to problems caused by trying to manage the "persistent pollution of Twitter and other forms of social media" as the public commented on a trial that garnered "unparalleled levels of publicity".
Prosecution barrister Toby Hedworth QC argued against Mr Jackson's bid to retrieve his defence costs.
He said that a dangerous precedent would be set for public policy if prosecutors had to consider the financial implications of pursing rape cases.
He said it would lead to a "threat hanging over the Crown" when it was assessing some cases.
Mr Hedworth said it was not the fault of prosecutors that Mr Jackson did not currently have a job.
"He's not been deprived of a livelihood because of the prosecution, he's been deprived of a livelihood because the public became aware of certain things he was saying and doing in the conduct of his private life," said the barrister.
Mr Kelly said that when his own funds ran out during the case he could have applied for legal aid, rather than relying on other sources.
Mr Olding was granted legal aid half way through the 42-day trial.
The court heard that his lawyers are making a similar application to recover costs.
Only Mr Jackson's case was aired on Friday.