RHI inquiry told NI officials not warned of boiler 'gaming'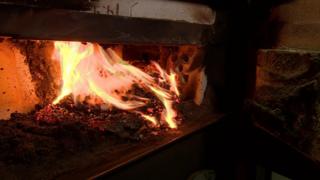 Administrators who ran the RHI scheme did not flag potentially exploitative usage to officials in Northern Ireland, despite sharing such intelligence with civil servants in Great Britain.
The revelation was made at the RHI public inquiry on Friday morning.
The running of multiple small boilers, rather than one larger one, to maximise subsidy is known as "gaming".
It was not against the letter of the regulations but may have breached the spirit of them.
The inquiry was told that the Office of Gas and Electricity Markets (OFGEM) had been telling officials responsible for the scheme in Great Britain about incidences of potential "gaming" since June 2013.
They were then included on a gaming register in the Department of Energy and Climate Change (DECC) which was running the scheme there.
However, the same information was not sent to the Department of Enterprise, Trade and Investment (DETI) which was responsible for the one in Northern Ireland.
The former head of the OFGEM unit responsible for administering the Northern Ireland scheme, Chris Poulton, was asked about what inquiry chair Sir Patrick Coghlin called this "simple contrast".
"What I'm trying to find out is - did the same system apply in Northern Ireland?" he asked.
"I don't think there was a specific process to do that," Mr Poulton said.
"Whether there was a process or not, why would OFGEM not have treated DETI in the same way as DECC?" Sir Patrick asked.
Mr Poulton agreed that "more could have been done".
Sir Patrick said OFGEM appeared to have recognised an obligation to raise gaming with DECC, and questioned why it did not apply equally to DETI.
"That's difficult for me to answer," Mr Poulton said.
"I think that's difficult for anyone to understand," Sir Patrick replied.
The inquiry has already heard there were difficulties agreeing data sharing protocols between OFGEM and DETI, around records to do with the Northern Ireland scheme.