Ulster University's 'secret' postcard exhibition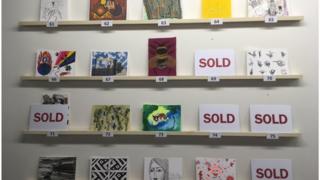 Speak to any young artist and they will tell you just how difficult it is to establish yourself in the world of art.
A first class education does not guarantee success, but exhibiting your artwork alongside creations by some internationally acclaimed artists can help.
Secret Postcards is an art exhibition with a difference, giving students at Ulster University the opportunity to sell their work in an anonymised exhibition where the name of the artist is not known until purchase.
Neil Shawcross, Colin Davidson, Willie Doherty, Oliver Jeffers, Ros Harvey, Marcus Patton, Mark Shields, Carol Graham and Peter Richards are among the artists to have donated to the exhibition.
Priced at £60 each, the sale of more than 200 large postcard-sized (A5) drawings, photographs, paintings and prints will go towards supporting the Belfast School of Art student-led art and design shop, Unique.
Hundreds of people attended the opening of the exhibition at Ulster University's Belfast campus.
'Complex operation'
Professor Raffaella Folli the Provost of Ulster University said it is the first exhibition of its kind at the university.
"The twist is that the cards are all signed on the back, so people will probably look for some artist that they have in mind to purchase a bargain for or people will look for whatever they love hopefully," she said.
"There is quite a complex operation that has been set in place to make sure the secret remains a secret until the very end."
"When we started we went and asked some of our most famous alumni whether they would be willing to participate and contribute. They were all very happy to participate and take part in this event with us."
Conor McClure, an Illustration student at the university was passing the exhibition as his painting was purchased.
"I wasn't expecting it to sell at all, I just strolled past and he was buying it at the exact same time. I wasn't sure if I should introduce myself in case he thought it was by someone famous."
"It was a great opportunity, it's kind of the most prestigious exhibition I have been in so far, so yeah it was great," he said.
Kevin Donnelly was the first person in the queue for the exhibition, arriving at the university at 06:00 BST.
"I had a look online, there were a few artists I did think I recognised and I thought well, I couldn't normally afford to buy art that's so expensive and the prices seemed very reasonable," he said.