RHI Inquiry: Boss 'did not read' problems report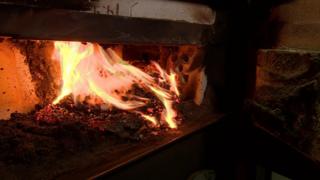 A former boss at the department responsible for the RHI scheme has revealed he commissioned a document about its problems but did not read it.
The inquiry into the Renewable Heat Incentive heard John Mills asked a staff member to put together a handover, before moving to another job.
Peter Hutchinson outlined the work that had to be done, including "immediate actions".
Mr Mills could not remember seeing or reading the document.
He told the inquiry he assumed his junior staff would have flagged up any serious issues.
Mr Mills became the boss of the energy division at the Department of Enterprise, Trade and Investment in January 2014.
Panel member Dame Una O'Brien asked if Mr Mills was "without interest or curiosity" about the RHI scheme at that time.
He rejected that suggestion and compared the workload in his role as having been "like keeping a series of spinning plates going".
"Other issues appeared to be in greatest risk of tumbling off... and resulting in risk." he added.
In his handover note, Mr Hutchinson had written twice that "tiering", a method of cost control, should be considered "as a matter of urgency" in the green energy scheme.
Asked what he would have expected his new staff to do after they had read that point, Mr Mills said it "should have been escalated" to him.
'Staff numbers'
Earlier, Mr Mills told the inquiry that the job was "extremely onerous, with ever increasing demands on my time" and that there was a "sea of potential risks".
He said gradually he came to understand that the team faced a much more complicated series of challenges than anyone had previously realised.
At one point he said that just he and two colleagues worked on RHI, and now it had 30 staff members and the scheme had closed.
The inquiry into RHI was set up to investigate the circumstances surrounding the initiative after its costs spiralled.
The scheme offered financial incentives to encourage businesses to switch to using renewable fuels to generate heat.
But critical flaws meant that its claimants could earn substantial returns, far greater than intended.