Bradley and Anderson clash at the Balmoral Show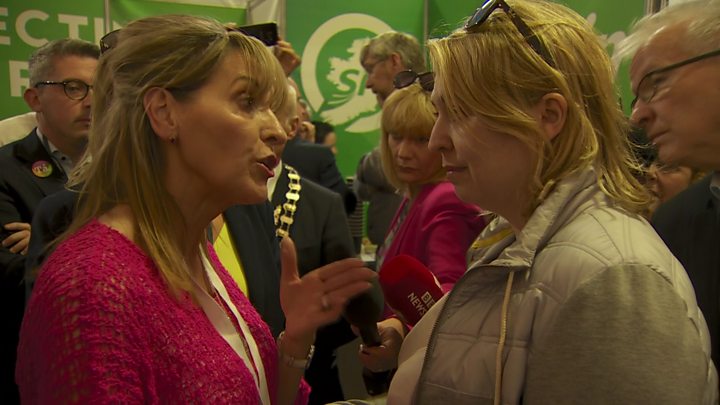 Northern Ireland Secretary Karen Bradley and Sinn Féin MEP Martina Anderson have clashed over Brexit and a border poll during a visit to the Balmoral Show.
It was clear from the unscheduled exchange that they did not see eye to eye on either issue.
As Mrs Bradley walked around the exhibitors area she passed a Sinn Féin stall.
Martina Anderson took her opportunity and challenged Mrs Bradley.
Despite Mrs Bradley's attempts to encourage the MEP to "enjoy a great show", Ms Anderson persisted.
Legacy inquests
She said: "We are here to enjoy a brilliant show but these are the people that are going to be damaged.
"We are not going to be collateral damage."
She also pushed her on a border poll saying there was "demonstrable change for a unity poll and your prime minster knows it".
Mrs Bradley replied that she would be writing on the issue and again encouraged Ms Anderson to enjoy the show at which point the MEP repeated Sinn Féin's demands for the release of money for legacy inquests.
"We are waiting for the bid from the Department of Justice," replied Mrs Bradley.