Charity café to close after department withdraws funding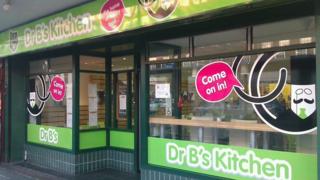 A charity café that trains young people with learning disabilities is to close on Friday after funding from a Stormont department was withdrawn.
Dr B's Kitchen, based on Bridge Street in Belfast, will shut its doors for the final time after 27 years.
The Barnardo's NI charity has said that the decision to close is "due to a number of factors including funding and trainee recruitment challenges".
The Department for Communities has decided not to renew its match funding.
The café first opened in 1991 to help those with learning difficulties train for a career in hospitality.
It offered on-the-job skills training for people aged 16 to 23.
'Match funding withdrawn'
Hundreds of young people had learnt their trade at the Belfast café, with some trainees winning awards for their cooking.
The kitchen was also visited by the Duchess of Cornwall and the late Diana, Princess of Wales, during trips to Belfast.
The project had been financed by Barnardo's, the Department for the Economy and the European Social Fund, with match funding from the Department for Communities.
It is understood that European funding had been secured for the coming year.
The Department for the Economy said it had been involved in supporting Dr B'S Kitchen in recent years with grant funding, although the project was required to raise its own match funding.
The Department for Communities had provided almost £100,000 per year in match funding since 2014 but has not maintained its offer after bids from various projects "well exceeded available budget".
A spokeswoman for the Department for Communities said that over that three year period, £289,854.28 had been provided to Dr B's in public match funding, through the European Social Fund 2014-2020 Call 1.
"The department received a number of applications for match funding in relation to the European Social Fund 2014-2020 Call 2 programme.
"The department values the outcomes being delivered for people living with health conditions and disability through the fund, and had protected its existing baseline budget of £1.5m (in 2018/19) for this funding from cuts that applied across other programmes and services. Unfortunately, bids well exceeded available budget and all projects could not be funded."
'Closure is unavoidable'
In a statement posted on social media, Barnardo's NI assistant director, Pamela Kirk, said: "We are very sorry to announce that sadly Dr B's Kitchen is going to close. This has been an extremely difficult decision for everyone.
"It is due to a number of factors including funding and trainee recruitment challenge.
"The combination of circumstances unfortunately means closure is unavoidable.
"Dr B's was established in 1991 and has made an enormous impact to the lives of hundreds of trainees. We are incredibly proud of all of them and all they have achieved.
"We are also equally proud of our dedicated staff who have set so many young people on the road to employment and independence," added Ms Kirk.
The café is due to hold 'an afternoon of celebration' at a later date to mark nearly three decades of continuous service in the heart of Belfast.
"It has been a complete pleasure to have served each one of you over the 27 years that we have been opened," reads a notice in the window from staff and trainees.