Stormont deadlock: Who's calling the shots on policy?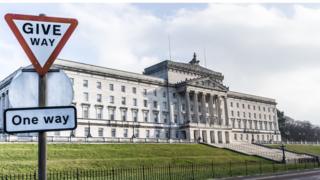 Northern Ireland hasn't had a government since January 2017, when a power-sharing deal collapsed.
With no ministers to make decisions affecting every facet of public life, civil servants have had to step up.
They had been taking some major decisions normally reserved for ministers but that all changed after an unprecedented court case.
Last year, a judge ruled that the Department for Infrastructure's permanent secretary did not have the power to give the go-ahead for a controversial waste incinerator plant in County Antrim.
After that decision, MPs passed legislation that gives civil servants more legal clarity to make decisions in the absence of ministers, without fear of being challenged in the courts.
But how has that affected issues that still need to be resolved?
The Executive Office (TEO)
One of the most high-profile decisions awaiting approval is making compensation available to victims of historical institutional abuse.
In January 2017, shortly before Stormont collapsed, the inquiry set up to examine allegations of child abuse between 1922 and 1995 ruled that victims should receive financial redress from the Northern Ireland Executive.
The head of the civil service, David Sterling, began preparing legislation to deal with it but in May he wrote to the Northern Ireland Office asking the secretary of state to take it through Westminster in the absence of devolution.
The government has not committed a date yet to bring forward the legislation, which has been signed off by all the Stormont parties.
Victims and survivors have argued it should be progressed through Parliament in the first two weeks of September.
Department of Agriculture, Environment and Rural Affairs (DAERA)
While there don't seem to have been any big decisions taken by DAERA's permanent secretary Denis McMahon since Stormont collapsed, there are several areas the department says it can't act on without a minister to give the OK.
Plans for a new agriculture policy are out to consultation but there will be no progress until a minister is in place to implement it.
A public consultation to inform a strategy to eradicate bovine TB ended last February but any new policy would need a minister's sign-off too.
The department has also been drawing up a plan to deal with a giant illegal dump near Londonderry, which will require significant spending, but it is also likely to be subject to ministerial approval.
Department for Communities (DfC)
In April, DfC took the decision to ringfence substantial extra funding for the Ulster Orchestra and Belfast's MAC cultural venue in 2017-18 and 2018-19.
While that was a funding decision rather than a policy move, in the context of a small arts budget, it was a major decision that would normally have been taken by a minister.
On the other hand, the department says it has been unable to take decisions on issues that would require a change in departmental policy - with one recent example being a decision in the rest of the UK to reduce the maximum stake on fixed-odds betting terminals to £2.
DfC says it would be for a devolved minister to make that call.
It is understood a number of appointments to public bodies cannot be signed off without ministerial approval either.
The department also began a public consultation proposing changes to Stormont's affordable warmth scheme in late 2017 - the consultation has since ended but it cannot progress without a minister's say-so.
Department for the Economy (DfE)
University tuition fees is a hot topic that has been the remit of DfE for several years, with both Ulster University and Queen's University lobbying for a rise in fees as part of their campaign for more sustainable university funding.
It's a decision, however, that civil servants are reluctant to take, meaning it probably won't be looked at until a minister is back in place.
Department of Education (DoE)
DoE's permanent secretary Derek Baker has taken a number of decisions around school mergers and closures - usually a task for Stormont's education minister.
Very few are contentious but it's not clear whether Mr Baker will want to take further decisions that could spark a backlash.
Those could include a proposal suggested this year by the Education Authority to close and merge seven special needs schools in Belfast.
Another decision Mr Baker would be unlikely to sign off on would be the ending of free school transport, which is something that has been raised by the Education Authority since Stormont collapsed, as a way of saving money.
The same goes for proposed strategies on children and young people and childcare.
The department has also made decisions on maintaining some threatened schemes in the absence of a minister - will it feel it can no longer do this?
Department of Health (DoH)
One of the busiest briefs on Stormont hill, there are a number of decisions that the department says it cannot take without the authority of a minister.
BBC News NI understands it cannot proceed with the following issues until Stormont is restored:
reconfiguration of emergency departments in hospitals
reform of adult social care policy
location of elective care centres under Bengoa reforms, the 10-year plan to reshape Northern Ireland's healthcare system
A decision taken in the rest of the UK to give NHS staff a 6.5% pay rise cannot be implemented in Northern Ireland either - the department said it was a devolved matter.
Recommendations brought forward by a working group set up to look at guidelines on abortion in Northern Ireland have also been stalled.
In July, MPs voted to change the laws on abortion in Northern Ireland - if devolution is not restored by 21 October - but the government has said a consultation period would take place to determine how the changes would actually happen.
Department for Infrastructure (DfI)
This department has already hit the headlines because of the Hightown incinerator case but civil servants within DfI may now be reluctant to take decisions on other issues sitting in their in-tray.
The department's decision to approve the £200m cross-border energy project - the north-south interconnector - is still awaiting final approval before work can begin.
Other decisions that may now not go ahead without a minister to sign off on them include:
Planning for a £300m gas-fired power station in Belfast was given approval by civil servants March after more than a year of waiting on a final decision.
The department said last year it also could no longer go ahead with a planned 12-month trial to allow certain taxis to use bus lanes in Belfast due to the implications of the Arc21 ruling.
Department of Justice (DoJ)
Reforming Northern Ireland's domestic violence laws also remains a bone of contention for the department - prior to Stormont's collapse the then justice minister Claire Sugden was working on such legislation but when Stormont collapsed the bill did too.
Now Westminster's new legislation on domestic abuse is set to be extended to Northern Ireland because of the lack of movement at Stormont.
The department has taken some decisions in the absence of a minister, including a review of serious sex offences.
That would not have been deemed a major policy decision, or one that would face criticism from the public.
But the effect of the Arc21 ruling is that the line on what constitutes a major policy decision has become more blurred than ever.
Civil servants will continue to do their jobs but they'll be keeping an eye on the political parties and the courts to see if anything changes.