Queen's appoint Peter Robinson as an honorary professor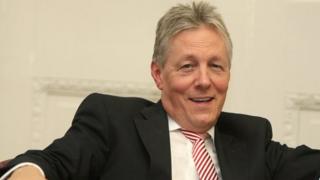 Former first minister Peter Robinson has been appointed an honorary professor in Peace Studies by Queen's University.
Mr Robinson served as the first minister of Northern Ireland from 2008 until he retired in January 2016.
He is also a former MP for East Belfast and was a founder member and former leader of the Democratic Unionist Party (DUP).
His new role will not be paid, is part-time, and will last for three years.
As part of it, he will give occasional lectures and take part in workshops and masterclasses with students.
Professor Richard English, one of the pro-vice chancellors at Queen's, welcomed the appointment.
"As a former first minister Mr Robinson has considerable political and governmental experience which will enhance both teaching and research at the university," he said.
"We look forward to his contribution over the next three years."
'Restoring government'
Mr Robinson will be attached to the Senator George J Mitchell Institute for Global Peace, Security and Justice at the university.
He is due to give his first lecture in his new role on Thursday 7 June on the subject of restoring government in Northern Ireland.
The lecture will be free and open to the public, although registration is likely to be required.
Other honorary professors already attached to the Mitchell Institute include the former government negotiator Jonathan Powell and the head of Co-operation Ireland Peter Sheridan.