New group set up to tackle Bovine TB in Northern Ireland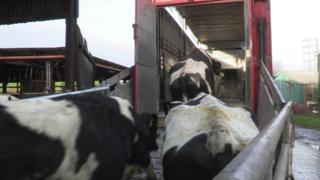 A new group to tackle a disease in cattle that costs taxpayers £40m a year has been set up.
It was a recommendation of a study, commissioned by the Department of Agriculture and Environment, into ways to eradicate Bovine TB.
But a seat allocated to wildlife groups has not yet been filled.
Ulster Wildlife said it is not yet able to buy into the plan because one proposal is for a cull of both diseased and healthy badgers in TB hotspots.
The disease causes hardship for farmers.
Infected animals are slaughtered and affected herds are subject to restrictions.
Farmers have long called for it to be addressed in wildlife - particularly badgers which suffer from a similar strain and which they believe can be transmitted to herds.
The chairman of the newly established TB Eradication Partnership, Sean Hogan, said proposals to tackle the problem might change as a result of a recent public consultation.
The chief executive of Ulster Wildlife, Jennifer Fulton, said the "strong reaction" from its membership during the consultation was that they didn't want to see any "generic cull" of badgers.
She said they could accept the trapping and testing of badgers, with healthy ones vaccinated and released and diseased ones humanely destroyed.
'Collaborative approach'
She said if the department moved towards that model they could reconsider participation.
Mr Hogan said it was "unfortunate" that the conservation seat on the new partnership had not yet been filled.
He said they were "voices that really needed to be heard" and that sorting the Bovine TB problem would need a "collaborative approach".
TB testing and compensation costs tens of millions of pounds of public money each year.
The new group is to discuss with the department how it might fill the gaps on its panel.
Apart from Mr Hogan other members include a vet with almost 50 years experience; a scientist and immunology expert and two farmers.