Oisín McConville calls for extension of gambling law change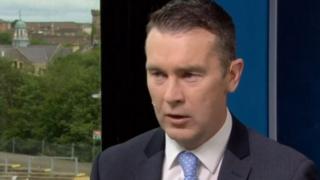 A former GAA star who had a gambling addiction has said it is "unbelievable" that changes concerning fixed-odds betting terminals (FOBTs) will not apply in Northern Ireland.
Oisín McConville described the machines as the "crack cocaine" of the gambling industry.
Currently people can bet up to £100 every 20 seconds on electronic casino games.
The changes will see the maximum stake reduced to £2 elsewhere in the UK.
The Department for Communities said any changes in Northern Ireland would have to be made by a devolved minister.
The UK government's Culture Secretary Matt Hancock called the machines "a very serious social blight" that "needs to be tackled".
'An avenue to a quick fix'
But bookmakers have warned the cut could lead to thousands of outlets closing.
William Hill, which generates just over half its retail revenues from FOBTs, described the £2 stake limit as "unprecedented" and warned that 900 of its shops across the UK could become loss-making, potentially leading to job cuts.
Mr McConville, who was a key part of Armagh's All-Ireland winning side of 2002, revealed in 2007 that he had a gambling addiction which had led him to run up debts of more than £100,000. He later revealed in his autobiography that he lost £10,000 in one day.
The former GAA All Star, who has since become a trained counsellor, welcomed the change to the law as "proper regulation" which would "help in so many ways", but expressed his disappointment that the amendments would not apply in Northern Ireland.
"They (these machines) are known as the crack cocaine of the gambling industry. This is the avenue to that quick fix. It is well documented how addictive they are," said Mr McConville.
"I think it is a massive step in the fight against compulsive gambling, I am dealing with people who are struggling with gambling issues day in and day out and this is something that will help in so many ways.
"It is not piecemeal, it is not ticking a box, it is proper regulation. I think it shows real intent on the part of the government.
Mr McConville added: "It is just embarrassing (that it will not apply to Northern Ireland). There is a huge focus on the issues around gambling...it is so hurtful not only for those with addictions but for those families who are suffering because of it."
No gambling laws since 1985
It is understood that there are around 600 such FOBTs terminals in Northern Ireland.
The six biggest bookmakers in Northern Ireland - Ladbrokes, William Hill, Paddy Power, Sean Graham, McLean's and Toal's - all have FOBTs in their shops.
No gambling laws have been passed in more than three decades, and according to the last law, introduced in 1985, gaming machines should have a maximum stake of 30p, with an upward winning limit of £8.
The Department for Social Development said in 2015 that the legal status of FOBTs under Northern Ireland law "could only be authoritatively determined by the courts."
Last year, a BBC Spotlight programme revealed that a bookmaker had been arrested and a file sent to the Public Prosecution Service (PPS) after a PSNI investigation into whether the terminals are in breach of Northern Ireland gambling laws.
A spokesperson for the Department for Communities said: "This Department notes the announcement made by the Department for Digital, Culture, Media and Sport regarding a reduction in the maximum stake permitted for Fixed Odds Betting Terminals in response to their recent consultation.
"Gambling is a devolved matter and is regulated here by The Betting, Gaming, Lotteries and Amusements (NI) Order 1985. This legislation predates the development of electronic machines such as Fixed Odds Betting Terminals; their legality can, therefore, only be definitively determined by the Courts.
"Any proposed changes to Northern Ireland gambling law would be for an incoming minister to determine."