Royal wedding 2018: Who's going from Northern Ireland?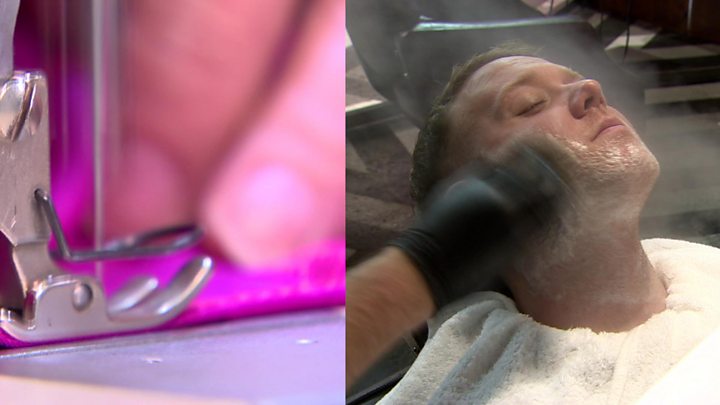 Forget royalty, politicians and celebrities - who from Northern Ireland is going to the royal wedding?
More than 2,500 people have been invited to the grounds of Windsor Castle to watch the arrivals of Prince Harry and Meghan Markle on Saturday.
Some 1,200 are members of the public from all over the UK, who were nominated to attend by nine regional Lord Lieutenant offices.
They are the personal representatives of the Queen.
The dress
Everyone knows that a big part of any wedding is the dress.
And never a truer word was said when it comes to charity worker Catherine Cooke from Londonderry.
For the first time in her life, Catherine has had a dress designed and made for her by a team from the Fashion and Textile Design Centre in Derry.
And she loves her new outfit.
"It's special because somebody has designed it, someone has donated the material, and it's been created and it's going to be printed with images of the city," he said.
The images take the form of a city-scape which includes Derry's walls and the Guildhall.
They are used as a border print on the chiffon outer-layer of the dress.
So while Ms Markle has been having a team of people working on her dress, Catherine says she has a whole city behind her - because so many people have been involved in her outfit.
"It means that more people are involved in the wedding - not just the women from Foyle Women's Information Network - but the people who are involved here."
The hat
We all know that a wedding isn't a wedding without a hat.
Catherine's is a particularly special, bespoke creation.
It folds up so she does not need a hat box.
And if the weather continues to be warm at Windsor - she could possibly use it as a fan.
Catherine isn't the only member of her family going to the wedding. Her daughter Julie-Ann Coll has also been invited.
Important preparations
So what about the men?
For former soldier Philip Gillespie from County Antrim, getting ready for the royal wedding is also serious business.
First, there's the hair - on his head.
Then, there's the eyebrows. And he got his nostrils waxed.
Who said it was easy to get ready for a royal wedding?
Philip is a bit more relaxed, however, about his own attire.
"It's a suit I got a couple of weeks ago for a friend's wedding - so I'm going to re-use it," he said.
"It's a plain enough suit. I bought it in Ballymena.
"But if it's good enough for a friend, then it's good enough for going to the royal wedding."
He is also going to wear his medals - including one for Afghanistan - where he completed three tours of duty.
Charity Work
"I lost my leg in Afghanistan in 2011," he said.
"I was serving with the Royal Irish at the time. Since being injured and going through the recovery process I've tried to give something back to the charity that helped me out quite a bit."
That is why he believes he was nominated to attend the big event.
Philip has also just found out he has been selected to take part in the next Invictus Games - which was set up by Prince Harry for wounded, injured or sick members of the armed forces.
So he may get an opportunity to meet the prince again in the future.