Herdman's Mill fire 'started deliberately'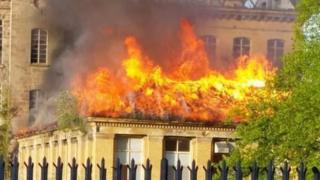 A fire at Herdman's Mill in Sion Mills was started deliberately, police have said.
Northern Ireland Fire and Rescue Service crews were called to the historic site in County Tyrone at about 1945 BST on Wednesday.
The Police Service of Northern Ireland has asked for witnesses to come forward.
The Herdman's Mill site was bought by local lottery winner Margaret Loughrey for £1m in 2014.
"Police are investigating after the old Herdsman's Mill in Sion Mills was targeted by arsonists," a PSNI spokeswoman said.
"The blaze is believed to have been started deliberately and officers are appealing for witnesses to get in touch," she added.
SDLP MLA Daniel McCrossan said the fire was "bitterly disappointing" and called on authorities to protect the site which has been subject to multiple arson attacks in recent years.
"This is a hugely important and historical site in Tyrone which has been subjected to a spate of arson attacks in the last few years," said Mr McCrossan.
"The people of Sion Mills and the wider area are fed up with the Mill being left in ruins and are upset that a large piece of their history has literally gone up in flames.
"I would advise anyone who spotted any suspicious activity around the time of the fire to get in touch with the PSNI as soon as possible.
"Something has to be done about this. I have engaged with various departments in the past to take ownership of the site and put it in the hands of local people. If action is not taken, I fear there will literally be nothing left of the mill and the history attributed to it."
Lottery winner
Margaret Loughrey, from Strabane, won almost £27m in the Euromillions jackpot in December 2013.
It is understood she paid £1m for the site, which was previously owned by the Herdman family for over 170 years.
The mill, which once employed more than 1,000 staff, ceased spinning linen in 2004 and the company that owned the mill went into receivership in 2011.