Stormont department to appeal incinerator decision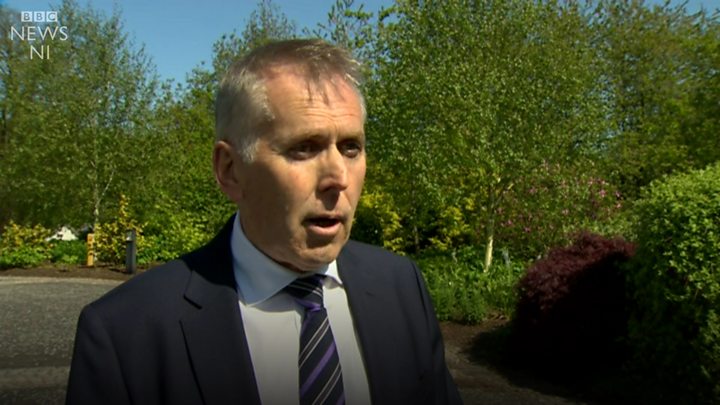 A Stormont department is to appeal a judge's decision that a civil servant did not have the power to approve a controversial incinerator project.
The incinerator in Mallusk, County Antrim, was blocked by the High Court on Monday.
The head of the civil service, David Sterling, says there is a lack of clarity on what decisions departments can make in the absence of ministers.
He also warned that events such as the North West 200 could now be at risk.
The Department for Infrastructure (DfI) is responsible for the the road closure orders that are necessary to allow the North West 200 to take place.
Mr Sterling said if Mrs Justice Keegan's ruling had been made earlier it could have prevented this week's road races taking place because a civil servant signed the road closure order.
"If the position is now that we cannot do that any more because it is normally done by a minister, then you would not have had the North West 200 this weekend," Mr Sterling told BBC News NI.
Planning permission for the £240m facility was approved by a DfI civil servant in September 2017.
It caused controversy as politicians argued it was not his decision to take.
Plans for the incinerator, which was proposed by waste management firm Arc21, received more than 4,000 letters of objection.
The High Court has now ruled the senior civil servant, Peter May, had no power to approve the planning application.
But ministers have not been in place to take decisions since the Northern Ireland Executive collapsed in January 2017.
Mr Sterling says the civil service will continue to "do the best we can in the circumstances we find ourselves", but says the judgement "leaves things a little more uncertain of what we can and cannot do".
Sinn Fein MLA Declan Kearney expressed his disappointment that the DfI intends to appeal the High Court judgment.
"The public interest, and the interest of Hightown residents' safety was served by the High Court ruling last Monday," said the South Antrim representative.
"This decision to appeal by the department runs counter to that public interest.
"Once again the DFI are on the wrong side of this issue. It should belatedly accept that fact and comply with the High Court judgement."
The DUP's Pam Cameron said it showed the need for politicians to be making decisions.
"I don't care what the description of it is, whether it's direct rule, whether it's devolved government, the people of Northern Ireland need ministers in place making those decisions to ensure that their day to day lives run as smoothly as possible," she said.
"The secretary of state has a job to do and I certainly don't envy that job, but she absolutely must ensure that there must be ministers in place so that this government can keep running."
Analysis: Long road ahead before clarity
by Gareth Gordon, BBC News NI political correspondent
On Monday a High Court judge, Mrs Justice Keegan, effectively threw the already confused situation over who exactly is running Northern Ireland into even greater confusion.
She overturned a decision by Peter May, the permanent secretary of the Department for Infrastructure, last year to give planning approval for a controversial £240m incinerator project at Mallusk, outside north Belfast.
Mrs Justice Keegan said at the judicial review that despite the absence of a working assembly and minister, that decision should still have been made by a minister and not civil servants.
The DFI's decision to appeal her judgement could take money months.
The SDLP's Mark H Durkan said: "I think it's important that we explore every avenue in order to have the institutions returned, so that we can have politicians from here, elected by people from here, making decisions that affect here.
"Because this week it's an incinerator, but there are huge decisions that need made - I mean life-improving, life-saving decisions about things like access to cancer drugs."