Fury at 'whitewash' review of Belfast leisure centres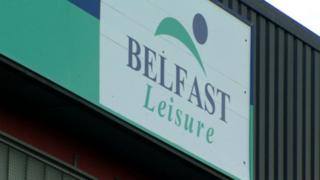 A review for Belfast City Council has found "no sound reason" for it to change how leisure centres are run, sparking anger from trade unions.
Greenwich Leisure Limited (GLL) operates 13 facilities for the council, a move taken to save money.
The review found the use of casual workers on zero-hour contracts has "significantly increased".
Unions want the council to end the outsourcing deal and labelled the review "a whitewash."
The council hired London-based GLL in 2015 to save ratepayers £2m a year, while embarking on a £100m programme to refurbish leisure centres.
The review said ending the arrangement would likely increase costs and "could jeopardize" the financing of improvements.
It added: "Undoubtedly more casual workers are utilised within leisure now than when the service was managed by the council."
Unite union official Michael Keenan said: "The report seeks to justify zero hours contracts.
"Instead of either zero-hours contracts or casual labour, leisure services should be staffed by workers with permanent contracts."
Councillors have been considering the review document.
The council recently passed a motion calling on its officials to explore options, including the feasibility of returning leisure operations in-house.
A council spokesperson said GLL had made "strong progress" in "transforming" leisure services.
They added the council is committed to developing "stronger partnerships" with unions going forward.