RHI Inquiry hears of 'total divorce' between departments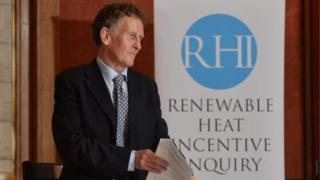 The RHI Inquiry chairman has described what he calls "a total divorce" between two Stormont departments - agriculture and enterprise.
Sir Patrick Coghlin made his comments during evidence from Chris Johnston.
Mr Johnston works for Agri-Food and Biosciences Institute (AFBI), which is part of the Department of Agriculture, Environment and Rural Affairs.
The Department of Enterprise ran the RHI scheme, and the Department of Agriculture often helped to promote it.
At AFBI, Mr Johnston was project leader for Environment and Renewable Energy Research, and was responsible for studying and promoting the use of biomass fuels.
During his evidence on Wednesday morning, he was asked at length why he had not questioned Department of Enterprise, Trade and Investment (DETI) officials running the RHI scheme about its lucrative rates for installing certain boilers and not others.
Sir Patrick went on to describe the Department of Agriculture "positively promoting and recruiting the scheme at a time when it was clearly leading to an overspend of public money."
To Mr Johnston he said: "Your view of it is 'Well, it's DETI's, not my responsibility... they must know all about this, I'm not going to interfere'."
Mr Johnston replied: "To have more linkage would be good, and I felt I was trying to develop some linkage."
He later spoke of "loads of examples where I should have communicated more, but at the time I didn't feel that I necessarily had to".
Earlier Mr Johnston had stated "it's a little unfair" to suggest he was best placed to inform DETI about the over-generous RHI scheme.
Looking at Junior Counsel to the Inquiry, Donal Lunny, and at the chairman, he said: "If I had known at the time that I would have been sitting here I would have paid a lot more attention."