QUB trialling psychometric tests for nursing applicants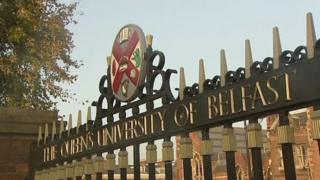 Queen's University of Belfast (QUB) is to consider using psychometric tests as part of the admission process for nursing undergraduates.
If a trial is successful the tests will replace the written personal statement.
The tests, called 'Nurse Match', are designed to measure a prospective nurse's attitudes to the role and their personal values.
Nursing places are in demand, with QUB alone receiving approximately 2,000 applicants for around 500 places.
Some of the questions on the tests - which take around 45 minutes to complete and are currently being widely trialled - ask what "a great nurse" does in certain situations.
Applicants then pick from a spectrum of answers.
'Qualities we need in recruits'
Dr Marian Traynor, from the School of Nursing and Midwifery at QUB, said that they were designed to measure values like integrity, professionalism, trust, care and compassion.
"The quality of our workforce is dependent on the quality of the recruits coming into nursing," she said.
"This new approach is designed to uncover and score an applicant's attributes and values against professional standards."
"There are qualities that we need to measure in recruits before they come into the school of nursing."
Dr Traynor added: "We are mapping those in the psychometric tests to try and detect those values in our young recruits."
At St Louise's College in west Belfast, A-Level students Anne-Marie O'Rawe and Zuzanna Lasecka had sat the tests.
'More reliable'
Both want to study nursing at university and Zuzanna said that the tests improved the admissions process.
"I think with the personal statement anyone can write it for you," she said.
"Whereas with this, I think it's more reliable and tells you more about the person from the first stage of the whole process."
"You really start to think about 'what would I actually do?' and how you would overcome different problems."
"So that really helps you to learn something about yourself as well."
The school's careers teacher Maria Lismore also told BBC News NI that the psychometric tests were more straightforward for pupils than a written statement.
QUB has invited all post-primary schools in Northern Ireland to use the new tests, and are researching how effective they are.
However, the Department of Health would ultimately have to approve any permanent change in the nursing admissions process and A-Level grades will still be most important factor in deciding if a student gets a place at university.