Call for safety barrier after cars crash into garden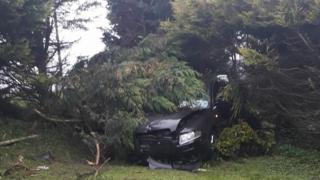 A father-of-five from County Antrim has called for the installation of a safety barrier outside his home after two cars crashed through his front garden.
Jimmy Mullan has banned his children from playing in the garden after a series of incidents in recent years.
On Tuesday, Mr Mullan had just left his garden when two cars which had collided on the road outside careered through the hedge of his Hannahstown Road home.
The Department for Infrastructure said it is "happy to facilitate a meeting".
Mr Mullan said that he was at home on his own at around 1500 BST on Tuesday afternoon when the crash happened.
"I had just walked away from that corner of the garden when the cars came through the hedge," he said. "Only for the hedge the cars would have hit the house."
"One man was trapped in his car and the passenger side of the other guy's car was completely crushed."
Police said that no-one was injured.
Mr Mullan, who has lived at his home for 15 years, said that the stretch outside the property - the junction of Hannahstown Road and Budore Road, on the outskirts of west Belfast - had seen several motorists crash near or in his garden.
"This is an ongoing issue. I pulled a family out of a ditch at one stage and about two years ago a man's car came through the trees into the garden," he said.
In recent years the volume of incidents has forced him to ban his children - the youngest of whom is aged just six years old - from playing in the garden.
Mr Mullan said that his previous requests for a safety barrier have been refused by Department for Infrastructure officials, whom he has asked to visit his home in the wake of the latest crash.
Mr Mullan's wife, Paula, told BBC Radio Ulster's Evening Extra programme that she was "absolutely devastated".
"It could have been a lot worse than this. Somebody was looking over my husband yesterday. He just turned to walk towards the house and he heard the bang and looked behind him," she said.
"I could be sitting here today a widow.
"I just keep choking up. Nobody seems to want to do anything.
"What price can you put on a life?," asked Mrs Mullan.
A spokeswoman for the Department for Infrastructure said they had been contacted by Mr Mullan and added: "The department is happy to facilitate a meeting with residents and the appropriate statutory authorities, however this will require a degree of coordination to identify a date which suits all of the relevant parties."
"When assessing sites for the possible introduction of a vehicle restraint system, the department uses national guidelines so that such installations are appropriate, safe and proportionate. These guidelines do not include any stipulation that a fatality should occur before a barrier is introduced."