Daisy Hill Hospital given £1.65m to help emergency services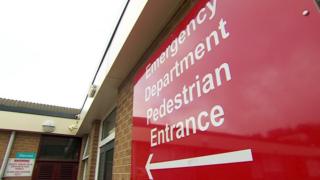 A hospital that was at risk of losing its 24-hour emergency department (ED) is to get an initial £1.65m investment to help fund emergency care.
Daisy Hill Hospital in Newry, County Down, is to receive funding for measures including strengthening the workforce.
A new admissions and assessment unit will be established alongside the ED.
It will provide telephone advice to GPs and paramedics and enable some elderly patients to bypass the ED.
The package, announced on Monday, includes an initial £650,000 this year from the Department of Health's health and social care transformation fund.
It also includes £1m in capital funding from the Southern Health and Social Care Trust.
Southern Trust chief executive Shane Devlin told BBC NI's Good Morning Ulster he was "delighted" with the news.
"We entered into a process where we engaged with the local community and with clinicians and with statisticians to understand what is it the population needs," he said.
"When we began to understand that and looked at the dynamics of this particular area in terms of the elderly population, but also in terms of a growing young population, it was very clear that to meet the needs of that population we needed to sustain unscheduled care in that area."
'People power'
Mary Luckie, a former nursing sister at the ED who worked for 41 years at the hospital, told BBC NI's Good Morning Ulster that the result was down to "people power".
"It's a testament to the people power of the local area, the ED and Pathfinder group," she said.
The hospital covers a rural area where there are a lot of young people, she said. The closure of the ED would have been "an awful loss".
She believes the new investment will help reverse a negative attitude which put medical staff off taking up positions at the ED, as they thought it was being run down.
Public outcry
In March 2017 the Southern Health and Social Care Trust, warned the service was vulnerable due to "a lack of senior medical cover" at night which could put patient safety at risk.
The trust has experienced problems recruiting and retaining senior staff, particularly those in emergency medicine.
Workload pressures, anti-social hours and a lack of resources deterred many medical graduates from choosing to work in EDs.
'Growing population'
Public protest meetings followed the announcement, with campaigners expressing fears that a temporary suspension of 24-hour cover could become permanent.
After a regional summit on the issue, health professionals undertook an assessment of "unscheduled care" requirements in the Newry and Mourne area.
In May 2017, they concluded that the continued presence of a 24-hour ED in Newry "was justified" - based on clinical need and the area's projected population growth.
The Daisy Hill Hospital Pathfinder Group was set up to develop proposals to ensure "sustainable" emergency healthcare.
Its report in December 2017 recommended a total investment of £6m.
The Department of Health told BBC News NI it "fully endorsed" the Pathfinder Report including the investment plan for the hospital.
Permanent Secretary Richard Pengelly said: "Great credit and thanks must go to the Pathfinder Group, and to the workforce and community representatives who have helped make this happen."
Francis Gallagher from the Daisy Hill Hospital Action group, welcomed the news.
"This is just a fraction of the investment that is really needed because of lack of investment throughout the years at Daisy Hill. We are really in catch-up mode now," he said.
"This is a small start, but there's a lot more work to be done."