UVF flags near mixed Belfast estates removed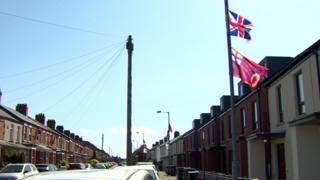 Politicians have expressed concern about loyalist paramilitary flags which were put up close to a mixed housing estate in south east Belfast.
Loyalist blogger Jamie Bryson said they were removed on Wednesday morning.
The flags were erected on lamp posts near Global Crescent, a development designed to house people from across the sectarian divide.
Last year, there was controversy over similar flags at the nearby Cantrell Close estate, which is also mixed.
Four Catholic families later left their homes due to sectarian threats.
The MP for the area, the DUP's Emma Little Pengelly said: "Last year when flags were erected in the Cantrell Close area I stated my commitment to working with everyone to find solutions.
"Three flags were erected on Ravenhill Avenue, close to Cantrell Close. I welcome that these have been removed this morning. I will continue to work with all to seek resolution to these issues."
Mr Bryson said that the flags were "not the work" of the Ulster Volunteer Force (UVF).
'Intimidatory'
The latest flags have been condemned by SDLP and Alliance representatives.
SDLP MLA Claire Hanna has visited the area and described the flags on Ravenhill Avenue as "intimidatory and inexcusable".
Alliance MLA Paula Bradshaw said the erection of paramilitary flags was "illegal" and should not be tolerated anywhere.
Mr Bryson said that after becoming aware of the flags, the East Belfast Community Initiative "had discussions with people who would mediate on behalf of those linked to east Belfast UVF.
"It was made very clear that these flags were not erected by the UVF and, as a result of that, within an hour of the East Belfast Community Initiative becoming aware of this the flags have now been taken down."
He added: "We have to question exactly who put these up and their motivation".