Praise for Northern Ireland hospitals in patient survey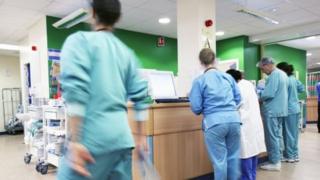 More than 90% of patients in Northern Ireland were 'satisfied' or 'very satisfied' with their overall hospital experience, according to a survey by the five health trusts.
Questionnaires were posted to 18,575 people who had been inpatients at some stage during 2017.
Almost 7,000 (37%) of those contacted, responded.
However, the results were less positive on the issue of doctors communicating with patients.
Around 20% of respondents said they felt doctors talked in front of them as if they weren't there while 29% of respondents indicated they sometimes received conflicting messages about their care from different members of staff.
However, patients expressed high levels of satisfaction with the hospital environment and the care and treatment they received from staff.
Nearly all respondents (99%) felt the room or ward they were in was "very clean" or "fairly clean" with 93 per cent of respondents rating the toilets and bathrooms in a similar way.
Hospital food however, did not receive quite the same endorsement.
While two thirds of patients (65%) rated meals as 'good' or 'very good', 11% said they were 'poor' or 'very poor'.